Ramblers Receive Divine Intervention
Don't look now but the Loyola Chicago Ramblers are back in town, conjuring images of their historic run to the Final Four back in 2018. Jean Dolores Schmidt, also known affectionately as Sister Jean, is the men's basketball team chaplain, spiritual leader, and purveyor of upsets.
You may recall three years ago; Loyola Chicago was just another unheralded team that scored an invitation to a dance to which only the cool kids truly belonged. Well, the band began to play and the kids started tapping their feet with a first-round victory over No. 6 Miami. The 11th seed then decided to take another spin on the floor with a 63-62 thriller over No. 3 Tennessee.
Now even the cool kids were taking notice and the Ramblers eked out another one-point victory over No. 7 Nevada before they jitterbugged all over No. 9 Kansas State to win the South Region and earn their time in the spotlight with a Final Four soiree against West Region champ, Michigan. Unfortunately, that's when midnight struck and the Cinderella story ended when Loyola Chicago bowed, 69-57, in what was a stunning run, and one in which Sister Jean stole more headlines than the team itself.
Ramblers Receive Divine Intervention
But now they're back and Sister Jean Is no longer the fresh-faced kid she was in 2018 when March Madness was all new to her and the kids she mentored. Now she's a seasoned 101-year-old firebrand who knows a thing or two about slaying giants. Think David and Goliath leaping from the pages of the bible and onto the hardcourt.
Before the tournament began and the NCAAB lines were up on all 64 teams to win the national championship, there were a few blurbs in the newspapers about Sister Jean getting vaccinated and being cleared to attend her beloved Ramblers' games who received another invitation this year and a No. 8 seed to boot.
It was a cute story but there was a general feeling that Loyola Chicago's run might not be so divinely inspired this time around so better to leave well enough alone and Sister Jean's legacy intact.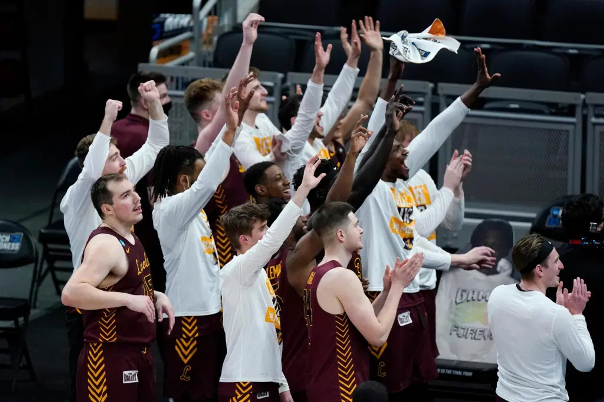 Well, here we go again. If you missed it, No. 8 Loyola Chicago defeated No. 9 Georgia Tech, 71-60, in the opening round. That victory advanced them to the next round and a date against No. 1 Illinois this past Sunday afternoon. Even throughout their 2018 run ULC never defeated any team higher than a No. 3 seed but now they were facing an Illinois squad that many believed would be crowned national champs when the curtain closed on the 2021 NCAA Basketball Tournament.
It couldn't happen again, right? Does lightning ever strike twice?
Apparently, it does because the Ramblers pulled one of the biggest upsets of the tournament when they matched their offensive output from their game against Georgia Tech with a 71-58 upset of the Fighting Illini.
And if you think Sister Jean is just another pretty face then think again. The cherubic chaplain knows her basketball and if you think we are patronizing her then think again. All you have to do is read her pre-game prayer to figure out that she's got much more in common with Dean Smith than Betty White.
"As we play the Fighting Illini, we ask for special help to overcome this team and get a great win," she said. "We hope to score early and make our opponents nervous. We have a great opportunity to convert rebounds as this team makes about 50% of layups and 30% of its 3 points. Our defense can take care of that."
So now the Ramblers find themselves in the Sweet 16 and instead of one and done, it has once again become nun and stun. And when asked about Sister Jean's observations, senior center, Cameron Krutwig, stated, "It's been a whole season of that. That's our defense. It's not just a 48-hour scout. We've been working our whole season for this, working our whole season on. I guess people kind of forgot; We were the No. 1 defense in the country this year. People chalk it up to being a mid-major."
And indeed, they are the top defense in the nation, having allowed a paltry 55.7 points per game entering the Big Dance. The Ramblers are one of 16 teams left standing after this weekend's action and one thing not lost on their head coach, Porter Moser, is allowing his kids to savor what they have accomplished.
"I wanted them to enjoy that moment. Our fans were all there. They didn't want to leave. Security was going to have to get them to leave. I wanted them to stay out and enjoy it. That etches in your memory. All the work that you put in, all the effort and sacrifices you make. I didn't want to rush in the locker room. Stand behind Krutwig. I wanted everyone to enjoy that moment a little longer with the fans."