8 Unique And Memorable College Baseball Coach Gifts
You've been on your college's baseball team for a while now, and it's brought you many joyful moments. You've circled the diamond more than you can count, and perhaps will do so a couple of times more before you graduate.
If there's one thing you know, it's that there's one person that's been with you every step of the way—your coach. They taught you the rules when you were just starting, told you how to adjust your swing, and may have even given you healthy lifestyle tips.
Unfortunately, once you graduate from college, you won't meet your coach as often as before, but that doesn't mean you'll forget about them, and they'll forget about you. As such, to commemorate the time you spent with your coach, here are some of the most memorable baseball coach gifts:
1. Custom Baseball Bats
If you want to give something unique and memorable, then your best bet would be to get a custom item. As you're dealing with your baseball coach, the perfect item would be a bat.
Simply get a baseball bat and engrave it with their name or something about them. You can even add the date you joined the team or even your team's name.
Besides, some shops create engraved baseball bats for coaches, so it's just like buying a custom cake. You can even step it up a notch by buying a glass container of some sort to make it more authentic. You can try this with a baseball as well—whatever floats your boat.
2. Custom Accessory
Similarly, you might also want to consider a custom accessory. Pendant, ring, necklace—you can get whatever you want to use as memento. Just like what you did with the baseball bat, you can engrave your coach's name into the accessory.
Most jewelry stores have this kind of service, so it won't take long to get what you need. Sure, the concept is a bit common, but it's a good idea nonetheless.
3. Clipboard
If you often glance at your coach during practice, you must've seen them hold a clipboard, at least, once. Clipboards are usually where coaches write notes and, sometimes, they use it to draw up plays. It's a great way to illustrate what they want the team to do in the field. Now you might be thinking that clipboards are common, but not always.
If you want to be unique, you can, instead, buy a clipboard with a top view of a baseball diamond. That way, your coach can quickly draw up plays.
4. Organizer
It goes without saying that a coach must have something to carry their valuables, be it whistles, water bottles, or even the clipboard you bought for them.
Usually, they'll bring a bag to practice every time, and perhaps you've seen them with a bag a couple of times. However, an organizer can be a unique gift as it contains numerous pockets, which greatly add to the available storage space.
You'll also find organizers with a built-in cooler, which allows your coach to store cold drinks.
5. Binder Kit
If your coach already has a briefcase or a bag to keep their bottles and other things, you can give them something that they might not have considered before—a binder kit.
A binder kit is essentially a container for rosters, practice plans, and other documents containing helpful information about baseball matches. After all, keeping these documents in bags usually crumples the pieces of paper.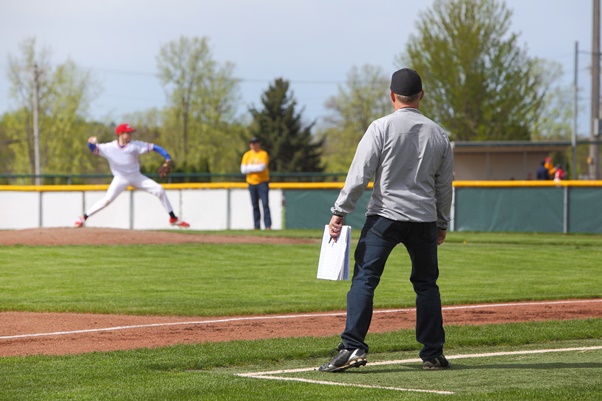 6. Electronic Whistle
You may have thought of buying a whistle for your coach, but did you ever considering buying an electronic whistle? There's not much difference between a regular whistle and an electronic whistle, except the latter can generate the same or even louder sound with a simple press of a button. Think of it as helping your coach take care of their lungs.
7. Sports Watch
Surely, you've seen your coach looking at their watches quite often during practice. This is because they usually need to keep track of the time perhaps when they want to record your performance during drills or when they want to keep track of other things during practice, like how long an inning took.
Either way, it's a good idea to get them a stopwatch.. It looks great, and it has the features they need. Very practical.
8. Baseball Games
It's always a good idea to get your coach a way to pass their time. What better way to do that than by giving them tickets to baseball games? They'll find it very entertaining. Games like RBI Baseball and NCAA Baseball might be good options.
Wrapping Up
Although superficial things like gifts can serve as a great reminder of your precious time with your coach, their students' time remains the perfect gift for mentors. With that said, make sure you make time to go out with your coach every now and then. Take them to dinner or perhaps watch a baseball match with them.