Most memorable UFC fights to ever take place
The UFC burst onto the MMA scene almost 3 decades ago: with Dana White as it's mouthpiece, it quickly grew to become the most popular MMA organization on the planet. During this time, the UFC has seen over 5000 fights take place, some of which were with Jon Jones, the older brother Chandler Jones who is a well-trained MMA fighter himself. Many of these have taken their places in our minds for years to come. With literally thousands of fights to choose from, stating which are the most memorable is less than easy. Here's a look at what we think are the 5 most memorable UFC fights to ever take place suggested to us by our friends at Betway.
Jon Jones vs. Alexander Gustafsson
It was this fight that saw Jones defending his title for the 6th time. Jones was known for his sheer attacking nature, and this fight was no different. Jones' aggression towards Gustafsson was a sight to behold. No one was able to put Jones down, but somehow Gustafsson achieved what no other fighter could, and put Jones on the mat. By the time the fighters entered the 5th and final round, they were both bloodied but it was Jones that won and retained his title.
Nate Diaz vs. Connor McGregor
Possibly one of the bloodiest fights in the history of the UFC, Diaz, and McGregor were holding no punches as they fought through to the final round. Along the way, McGregor struck blood as he pounded Diaz with leg kicks and some impressive left hands. Diaz was equally as impressive, and some powerful punches saw McGregor dripping in blood. It was anyone's fight as these two greats refused to give up. Ultimately, it was the judges who awarded McGregor the win, incidentally, the Irishman will be facing Poirier later this week.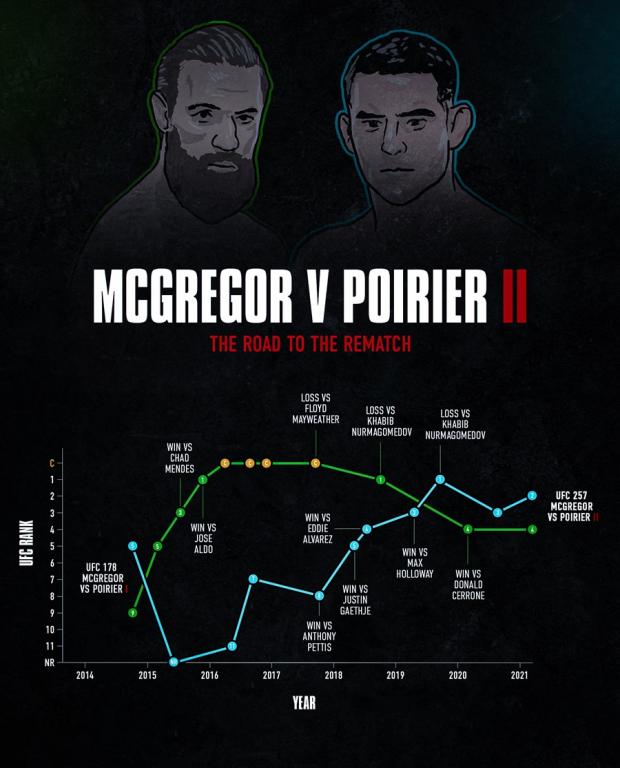 Anderson Silva vs. Chael Sonnen
This fight could have ended very differently as Silva emerged victorious and remained unbeaten. Sonnen seemed to dominate the first 4 rounds, even putting Silva to the mat during the first. With Silva being the favourite, the stage was set for a huge upset. Silva had struck Sonnen a mere 64 times, while Sonnen chalked up an impressive 320 against Silva. It wasn't until the final 2 minutes of the final round that Silva turned things around. A triangle choke from Silva saw Sonnen tap, and Silva retain his title.
Mauricio Rua vs. Dan Henderson
When a fight ends with both fighters in hospital, you know it has been one hell of a fight. For the full 5 rounds, both Rua and Henderson were unrelenting in their attacks on each other. Both a bloody mess by the end, Rua seemed to run out of steam as Henderson took the victory. Dana White later said this was one of the greatest UFC fights of all time.
Clay Guida vs. Diego Sanchez
Both know for the same fighting style, setting these two against each other was always going to be a fight to remember. It took only one minute for Sanchez to draw blood, but Guida kept coming back. An impressive, and exhausting display saw Sanchez take the win with a split decision that on another day would have deserved an award.