Arizona State Sun Devils
Overall Rank: #29
Conference Rank: #6 Pac-12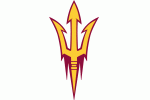 Arizona State was well on their way to reaching their seventh straight NCAA Tournament last season. The Sun Devils finished up the shortened season with a 20-11 record and yet another fifth place finish in the Pac-12. That was the fourth season in a row the team ended either fifth or sixth in the Pac-12. Despite some major losses, not surprisingly ASU will look to again to be right around that mark and right in the mix for a tournament berth.
2019-20 Record: 20-11, 10-8
Coach: Charli Turner Thorne
Coach Record: 464-268 at Arizona State, 504-308 overall
Key Departed Players (starters in bold)
Ja'Tavia Tapley, Forward, 11.6 ppg
Robbie Ryan, Guard, 10.6 ppg
Reili Richardson, Guard, 10.0 ppg
Jamie Ruden, Forward/Center, 7.4 ppg
Kiara Russell, Guard, 5.1 ppg
Key Returning Players (starters in bold)
Eboni Walker, Sophomore, Forward, 6.5 ppg
Jayde Van Hyfte, Junior, Forward, 4.6 ppg
Taya Hanson, Junior, Guard, 4.6 ppg
Iris Mbulito, Junior, Guard/Forward, 3.4 ppg
Sydnei Caldwell, Sophomore, Guard, 1.5 ppg
Bre'yanna Sanders, Senior, Forward, 1.0 ppg
Jamie Loera, Junior, Guard, dnp last season
Key New Players
Maggie Besselink, Freshman, Guard/Forward
Gabriela Bosquez, Junior, Guard, JC Transfer
Keeli Burton-Oliver, Freshman, Forward
Sydney Erikstrup, Freshman, Guard
Imogen Greenslade, Freshman, Center
Katelyn Levings, Freshman, Forward
Jaddan Simmons, Freshman, Guard
Projection:
A trio of juniors will now be asked to quickly turn into leaders of this team. Jayde Van Hyfte started all 31 games last season and the 6-1 junior averaged 4.6 points and 5.0 rebounds. She is a relatively consistent interior scorer and should see her scoring output increase significantly with more shooting opportunities to go around. Iris Mbulito is a versatile 6-1 wing. Mbulito may not emerge as much of a scoring threat after shooting 29.7 percent from the floor last season, but she is a solid rebounder, passer and defender. Taya Hanson will need to boost her shooting numbers too. She is a capable outside shooter, but hit just 29.0 percent of her attempts from three. Sophomore Eboni Walker had a very promising freshman campaign. She averaged 6.5 points per game and shot 51.9 percent from the floor. The offense could run through the 5-11 sophomore. A lot of pressure will be put on those four to step up their production and they have been patiently waiting for just this opportunity. The rest of the roster is largely comprised of brand new faces with the exception of Jamie Loera, who has missed most of her first two seasons with injuries. She should at least be a solid shooting option off the bench. Katelyn Levings and Keeli Burton highlight a large group of newcomers who will be asked to contribute right away. There are a lot of questions with this group, but Coach Charli Turner Thorne has talent on this roster and she will get the best out of them sooner or later.
Projected Postseason Tournament:
NCAA
By the Numbers:
Scoring Offense: 65.5 (167th in nation, 9th in conference)
Scoring Defense: 59.2 (58, 4)
Field-Goal Percentage: 40.2 (151, 8)
Field-Goal Defense: 40.5 (202, 9)
Three-Point Field Goals Per Game: 5.5 (202, 9)
Three-Point Field-Goal Percentage: 31.3 (160, 8)
Free-Throw Percentage: 68.1 (211, 12)
Rebound Margin: 6.6 (34, 3)
Assists Per Game: 14.4 (81, 6)
Turnovers Per Game: 14.5 (93, 6)
Madness 2020 Women's Basketball Recruit Rankings: