Arizona State Sun Devils
2020-2021 Overall Rank: #21
Conference Rank: #2 Pac-12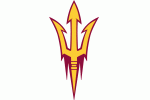 After a couple of rebuilding years under Coach Bobby Hurley, Arizona State has now had three NCAA Tournament worthy seasons in a row. The Sun Devils have lost 11 or 12 games in each of those three years though, so they certainly had to sweat it out down the stretch. The hope this year is that Arizona State will not be on the bubble come March. This year the Sun Devils have the tools to be safely in the NCAA Tournament and even compete for their first ever Pac-12 title.
2019-20 Record: 20-11, 11-7
Coach: Bobby Hurley
Coach Record: 93-69 at Arizona State, 135-89 overall
Key Departed Players:
Rob Edwards, Guard, 11.6 ppg
Romello White, Forward, 10.2 ppg
Khalid Thomas, Forward, 2.6 ppg
Elias Valtonen, Guard, 2.0 ppg
Mickey Mitchell, Forward, 1.8 ppg
Key Returning Players:
Remy Martin, Senior, Guard, 19.1 ppg
Alonzo Verge Jr, Senior, Guard, 14.6 ppg
Kimani Lawrence, Senior, Forward, 4.9 ppg
Taeshon Cherry, Sophomore, Forward, 4.6 ppg
Jaelen House, Sophomore, Guard, 3.9 ppg
Jalen Graham, Sophomore, Forward, 3.2 ppg
Key New Players:
Marcus Bagley, Freshman, Forward
Josh Christopher, Freshman, Guard
Pavlo Dziuba, Freshman, Forward
Luther Muhammad, Junior, Guard, Transfer from Ohio State, not eligible
Chris Osten, Junior, Forward, JC Transfer
Austin Ronzone, Freshman, Guard
Cade Ronzone, Freshman, Guard
Holland Woods, Senior, Guard, Transfer from Portland State
Projection:
ASU should have one of the best backcourts in the nation. Senior Remy Martin led the squad with 19.1 points, 4.1 assists and 1.5 steals per game. The speedy point guard can obviously score in bunches, but he will also set up his teammates very effectively. With more scorers around him, expect Martin's scoring to go down a little bit, but he will still take many of the big shots for the Sun Devils. Fellow senior Alonzo Verge figures to join Martin in the starting lineup. Verge only started nine games last year, but still played starter minutes and averaged 14.6 points per game. Incoming freshman Josh Christopher is too talented to leave out of the starting lineup. The 5-star recruit could just be around for one season before heading off to the NBA. In that scenario, Portland State transfer Holland Woods would become the major scoring threat off the bench. Woods averaged 17.7 points and 5.2 assists with the Vikings. Nobody expects him to put up the same numbers in the Pac-12, but he is a great talent who will fit right in at ASU. The frontcourt lost Romello White and his 10.2 points and 8.8 rebounds per game, but Kimani Lawrence and Taeshon Cherry are back. Incoming freshmen Marcus Bagley and Pavlo Dziuba could add a bit more of a scoring punch to the frontcourt. If Coach Bobby Hurley can find a consistent interior scoring threat and a couple players who can hit the glass effectively, the frontcourt will be good enough for Arizona State's backcourt to carry them to the very top of the Pac-12 standings.
Projected Postseason Tournament:
NCAA
By the Numbers:
Scoring Offense: 73.8 (103rd in nation, 3rd in conference)
Scoring Defense: 70.5 (204, 12)
Field-Goal Percentage: 42.9 (221, 10)
Field-Goal Defense: 42.8 (174, 7)
Three-Point Field Goals Per Game: 7.3 (165, 4)
Three-Point Field-Goal Percentage: 32.3 (230, 11)
Free-Throw Percentage: 69.5 (222, 11)
Rebound Margin: -2.3 (282, 12)
Assists Per Game: 11.1 (313, 11)
Turnovers Per Game: 13.2 (189, 7)
Madness 2021 NBA Draft Rankings:
Madness 2020 Men's Basketball Recruit Rankings: