Saint Louis Billikens
2020-2021 Overall Rank: #29
Conference Rank: #1 A-10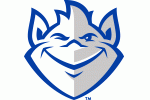 Two years ago Saint Louis reached the NCAA Tournament. Last year they again won 23 games before the season was cut short. And nearly everybody from that deep squad is back. Coach Travis Ford's team finally started shooting the ball better and continued to play their typical tough defense. The Atlantic 10 is going to be absolutely brutal this year, but this Billikens team has the depth and talent to find themselves on top of the standings when all is said and done.
2019-20 Record: 23-8, 12-6
Coach: Travis Ford
Coach Record: 75-58 at Saint Louis, 420-315 overall
Key Departed Players:
Tay Weaver, Guard, 4.5 ppg
Key Returning Players:
Jordan Goodwin, Senior, Guard, 15.5 ppg
Javonte Perkins, Senior, Guard/Forward, 15.0 ppg
Hasahn French, Senior, Forward, 12.4 ppg
Gibson Jimmerson, Sophomore, Guard, 10.8 ppg
Demarius Jacobs, Junior, Guard, 6.6 ppg
Yuri Collins, Sophomore, Guard, 5.4 ppg
Terrence Hargrove Jr, Sophomore, Forward, 5.4 ppg
Fred Thatch Jr, Junior, Guard, 4.8 ppg
Jimmy Bell Jr, Sophomore, Forward, 3.8 ppg
Key New Players:
Marten Linssen, Junior, Forward, Grad Transfer from UNC Wilmington
Andre Lorentsson, Freshman, Forward
Francis Okoro, Junior, Forward, Transfer from Oregon, not eligible
Phillip Russell, Freshman, Guard
Markhi Strickland, Freshman, Guard/Forward
Projection:
The best rebounding guard in the nation is a term that gets thrown around quite a bit, but for Jordan Goodwin it is actually true. He was the only player in the nation under 6-3 to rank in the top 100 in rebounding. On the year he averaged 10.4 per game. On top of that he added 15.5 points, 3.1 assists and 2.1 steals. Nobody can quite fill up the stat sheet like Goodwin. Speaking of rebounders, Hasahn French is quite impressive in that regard too. The 6-7 senior averaged 12.4 points, 10.4 rebounds and 2.6 blocks last season. Those two will be All A-10 honorees in 2021. Javonte Perkins spent most of his junior season coming in off the bench, but the 6-6 wing averaged 15.0 points per game and was the most prolific shooter on the team. Gibson Jimerson only saw action in ten games before an injury cut his freshman campaign short, but he was averaging 10.8 points per game and should help boost Saint Louis' outside shooting numbers even more in 2020-2021. Demarius Jacobs did not put up the big numbers of some of his teammates, but he started all 29 games in which he appeared and is a solid shooting threat as well. Yuri Collins will again run the point after dishing out 5.5 assists per game as a freshman. Fred Thatch is also in the hunt for major minutes this year after playing in just six games in 2019-2020. He can score in bunches if he stays healthy. At 6-10 Jimmy Bell is the tallest player on the roster. That size earned him 30 starts, but he averaged under 15 minutes per game. UNC Wilmington transfer Marten Linssen will give Coach Ford another experienced option up front. But even when playing smaller, the Billikens will get on the glass and play great defense. If their shots are falling too, this will be a tough team to beat.
Projected Postseason Tournament:
NCAA
By the Numbers:
Scoring Offense: 71.7 (154th in nation, 5th in conference)
Scoring Defense: 65.2 (57, 3)
Field-Goal Percentage: 45.4 (87, 3)
Field-Goal Defense: 40.1 (39, 1)
Three-Point Field Goals Per Game: 5.4 (321, 14)
Three-Point Field-Goal Percentage: 34.0 (137, 6)
Free-Throw Percentage: 58.0 (350, 14)
Rebound Margin: 6.5 (19, 1)
Assists Per Game: 14.5 (64, 3)
Turnovers Per Game: 12.8 (145, 9)