St. Bonaventure Bonnies
2
020-2021 Overall Rank: #60
Conference Rank: #3 Atlantic 10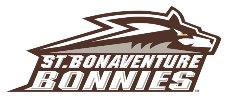 Between a slow start and a tough finish, St. Bonaventure had a very, very good 2019-2020 campaign. The end result was a solid 19-12 season. In fact, the Bonnies have been very consistent. Under the leadership of Coach Mark Schmidt, St. Bonaventure has won at least 18 games in each of the last seven seasons. That has only resulted in one NCAA Tournament and one NIT appearance during that stretch, but this group is always on the cusp of a big season. And this could be that big season.
2019-20 Record: 19-12, 11-7
Coach: Mark Schmidt
Coach Record: 229-180 at St. Bonaventure, 311-270 overall
Key Departed Players:
Bobby Planutis, Forward, 5.4 ppg
Amadi Ikpeze, Center, 3.6 ppg
Key Returning Players:
Kyle Lofton, Junior, Guard, 14.1 ppg
Jaren English, Junior, Guard, 11.9 ppg
Dominick Welch, Junior, Guard, 11.8 ppg
Osun Osunniyi, Junior, Forward/Center, 10.8 ppg
Justin Winston, Sophomore, Forward, 8.7 ppg
Alejandro Vasquez, Sophomore, Guard, 6.3 ppg
Alpha Okoli, Junior, Guard, 0.1 ppg
Key New Players:
Jalen Adaway, Junior, Guard, Transfer from Miami (OH)
Eddie Creal, Junior, Guard, JC Transfer
Quintin Metcalf, Freshman, Forward
Anthony Roberts, Junior, Guard, Transfer from Kent State, not eligible
Jalen Shaw, Junior, Forward/Center, JC Transfer
Projection:
All five starters are back, but this is still a young team with their best days ahead of them. Junior guard Kyle Lofton has had two great years with the Bonnies and averaged 14.1 points, 6.0 assists and 1.4 steals last season. He will again be the leader of the team. Jaren English and Dominick Welch are also juniors who averaged nearly a dozen points each last year. Welch is a prolific shooter and connected on a team high 72 three-pointers in 2019-2020. He is also tough on the glass. Speaking of tough on the glass, center Osun Osunniyi tallied a team high 8.4 rebounds per game and added 10.8 points and 2.5 blocks. With the 6-10 junior turning into a consistent scoring threat, St. Bonaventure has found a complete big man. Justin Winston stepped into a starting role and played very well during his freshman year. He can do more than simply compliment Osunniyi. That is a great starting five and Alejandro Vasquez was one of the main players off the bench last season too. Coach Schmidt has brought in players to help win right now though. Jalen Adaway was a part-time starter at Miami (OH) for a couple years and sat out with the Bonnies last year. Also joining the team are a couple junior college transfers who have the experience to help catapult the team towards the NCAA Tournament this season. But, without a senior on the roster, even if this year ends in the NIT, St. Bonaventure will be looking for an NCAA berth in 2022.
Projected Postseason Tournament: NIT
By the Numbers:
Scoring Offense: 69.1 (235th in nation, 8th in conference)
Scoring Defense: 66.9 (108, 7)
Field-Goal Percentage: 43.6 (181, 6)
Field-Goal Defense: 41.7 (106, 5)
Three-Point Field Goals Per Game: 6.8 (220, 11)
Three-Point Field-Goal Percentage: 34.4 (119, 5)
Free-Throw Percentage: 73.6 (88, 3)
Rebound Margin: 3.2 (82, 4)
Assists Per Game: 13.8 (119, 6)
Turnovers Per Game: 11.7 (55, 3)