Loyola Ramblers
2020-2021 Overall Rank: #61
Conference Rank: #2 Missouri Valley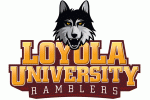 Loyola and Coach Porter Moser have done a good job of building off their trip to the Final Four in 2018. The recruiting has been solid and the future of the program looks good. The team won 20 games and went to the NIT in 2018-2019 and won 21 games last season with another NIT trip seeming likely. The more immediate future looks great. The Ramblers return all five starters and have the depth and experience to replicate their regular season success of 2017-2018. The MVC will be tough this season though and if it is tough enough, Loyola may not even have to win the conference's automatic bid to reach the NCAA Tournament.
2019-20 Record: 21-11, 13-5
Coach: Porter Moser
Coach Record: 162-136 at Loyola Chicago, 267-237 overall
Key Departed Players:
Jalon Pipkins, Guard, 3.4 ppg
Bruno Skokna, Guard, 1.7 ppg
Key Returning Players:
Cameron Krutwig, Senior, Center, 15.1 ppg
Tate Hall, Senior, Guard/Forward, 12.7 ppg
Keith Clemons, Senior, Guard, 10.4 ppg
Lucas Williamson, Senior, Guard, 9.0 ppg
Aher Uguak, Senior, Forward, 5.7 ppg
Marquise Kennedy, Sophomore, Guard, 9.2 ppg
Franklin Agunanne, Junior, Forward, 2.3 ppg
Paxson Wojcik, Sophomore, Guard, 2.0 ppg
Tom Welch, Sophomore, Forward, 1.8 ppg
Cooper Kaifes, Sophomore, Guard, dnp last season
Key New Players:
Damezi Anderson, Junior, Forward, Transfer from Indiana, eligibility pending
Baylor Hebb, Freshman, Guard
Jacob Hutson, Freshman, Center
Branden Norris, Sophomore, Guard, Transfer from Oakland
Projection:
The five returning starters are all seniors. Expect this group to come out of the gate firing on all cylinders. Cameron Krutwig will again be the catalyst on both ends of the floor after leading the Ramblers with 15.1 points, 8.1 rebounds and 4.2 assists last season. The 6-9 center shot 56.3 percent from the floor and is one of the more efficient scorers in the country. Offensive efficiency is a common theme throughout this team. The squad as a whole shot 49.7 percent from the floor, ranking fifth in the country. Tate Hall and Keith Clemons, the other double digit scorers from a season ago, bring that consistency to the three-point shooting range. Both hit over 42 percent from beyond the arc. Lucas Williamson, along with super sub sophomore Marquise Kennedy, are dangerous scorers too, but both will need to be a little more effective from beyond the arc. Aher Uguak is the often overlooked starter after averaging 5.7 points per game in 2019-2020, but he does a lot of the dirty work in the paint and certainly opens up some space for Krutwig to operate. Cooper Kaiefes is back after missing last season with a hip injury. As a freshman two years ago he averaged 5.7 points and earned All-Freshman accolades from the MVC. Branden Norris is another player who has proven to be a great outside shooter. As a freshman at Oakland two years ago he averaged 8.4 points, 5.2 assists and hit 48.6 percent of his attempts from beyond the arc. No longer will the 6-9 center have to lead the team in assists. The backcourt is getting crowded, but Coach Moser has some great options and he will get it all sorted out by the time conference play rolls around. With so much experience and talent, this group will be eyeing a MVC title. But even if that endeavor fails, Loyola has the potential to still have a very memorable 2020-2021 campaign.
Projected Postseason Tournament: NIT
By the Numbers:
Scoring Offense: 68.7 (247th in nation, 6th in conference)
Scoring Defense: 62.7 (21, 2)
Field-Goal Percentage: 49.7 (5, 1)
Field-Goal Defense: 44.1 (243, 6)
Three-Point Field Goals Per Game: 5.8 (297, 10)
Three-Point Field-Goal Percentage: 36.7 (33, 4)
Free-Throw Percentage: 65.0 (323, 109)
Rebound Margin: -0.3 (190, 5)
Assists Per Game: 14.3 (82, 3)
Turnovers Per Game: 12.9 (157, 7)