Boise State Broncos
2020-2021 Overall Rank: #63
Conference Rank: #2 Mountain West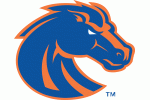 After suffering their first season with below 20 wins since 2011-12 last year, Boise State bounced back and finished 20-12 in 2019-20. The Broncos only return four rotation players from last season, but star forward Derrick Alston elected to return for his senior campaign. Boise State brings in a group of talented transfers that should help them transition after losing so much production from last year. It can be risky relying on new players, but the experience and talent on Boise State will help them compete for the Mountain West title.
2019-20 Record: 20-12, 11-7
Coach: Leon Rice
Coach Record: 198-128 at Boise State, 198-128 overall
Key Departed Players:
Justinian Jessup, Guard, 16.0 ppg
RJ Williams, Forward, 12.2 ppg
Alex Hobbs, Guard, 8.3 ppg
Robin Jorch, Center, 3.8 ppg
Marcus Dickinson, Guard, 3.6 ppg
Key Returning Players:
Derrick Alston, Senior, Forward, 17.3 ppg
Abu Kigab, Senior, Forward, 11.1 ppg
RayJ Dennis, Sophomore, Guard, 4.1 ppg
Max Rice, Sophomore, Guard, 2.7 ppg
Key New Players:
Emmanuel Akot, Junior, Guard, Transfer from Arizona
Mladen Armus, Junior, Forward, Transfer from East Tennessee State
Devonaire Doutrive, Junior, Guard, Transfer from Arizona
Pavle Kuzmanovic, Freshman, Guard
Lukas Milner, Junior, Forward, Transfer from Junior College
Kasean Pryor, Freshman, Forward
Marcus Shaver, Junior, Guard, Transfer from Portland
Burke Smith, Freshman, Center
Naje Smith, Junior, Forward, Transfer from Junior College
Jace Whiting, Freshman, Guard
Projection:
The decision by Derrick Alston to return for his senior season heavily increases Boise State's expectations. Alston earned All-Mountain West Second Team honors and was a top-ten Julius Erving Small Forward of the Year Award finalist as a junior. Alston led the Broncos in scoring (17.3 per game) and assists (3.1) while finishing second in rebounding (5.2). As a senior, Alston should be considered a strong contender for Mountain West Player of the Year. Abu Kigab is the only other returning double-digit scorer. Kigab was eligible for 20 games and started 18, averaging 11.1 points and 3.6 rebounds. After a full year at Boise State, Kigab should be an integral piece for the Broncos as a senior. RayJ Dennis started 15 games as a freshman and should see more minutes as a sophomore. The key to Boise State's success this year will be the impact of transfers. Six new players join the Broncos as juniors coming from different schools. Emmanuel Akot is a former top-50 recruit who struggled to find success at Arizona. Devonaire Doutrive was a top-100 recruit in the same class at Arizona who similarly disappointed in his time there. Both players come to Boise State with untapped potential. Marcus Shaver spent two seasons at Portland where he averaged double-digit points each year. Mladen Armus comes from East Tennessee State where he started 24 games as a sophomore and averaged 8.0 points and 7.7 rebounds. Lastly, Lukas Milner and Naje Smith are both transfers from the junior college ranks joining the Broncos this season. On top of all the transfers, Boise State also welcomes in four freshmen, though they are unlikely to see major minutes this season. Boise State has a wide range of possibilities this year with so many new additions having to play major roles in their first season with the Broncos. The return of Derrick Alston raises both the ceiling and floor considerably for Boise State who has a strong chance to win the Mountain West in 2020-21.
Projected Postseason Tournament: NIT
By the Numbers:
Scoring Offense: 75.9 (49th in nation, 4th in conference)
Scoring Defense: 69.5 (180, 4)
Field-Goal Percentage: 44.7 (124, 6)
Field-Goal Defense: 44.7 (269, 8)
Three-Point Field Goals Per Game: 8.4 (57, 5)
Three-Point Field-Goal Percentage: 34.5 (112, 5)
Free-Throw Percentage: 75.1 (48, 4)
Rebound Margin: 2.0 (121, 7)
Assists Per Game: 13.0 (186, 8)
Turnovers Per Game: 12.5 (112, 4)
Madness 2021 NBA Draft Rankings:
#59 Derrick Alston