Butler Bulldogs
2020-2021 Overall Rank: #66
Conference Rank: #9 Big East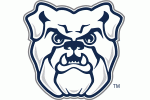 LaVall Jordan's third year at Butler was his best yet as the Bulldogs finished 22-9 in a loaded Big East and were ranked as high as fifth in the AP Poll. Before the season was cancelled, Butler had legitimate Sweet Sixteen aspirations. This season though, Jordan and the Bulldogs must reset a bit as top scorers Kamar Baldwin and Sean McDermott have graduated. Butler will almost certainly regress from last season, but they should still maintain competitiveness in the Big East.
2019-20 Record: 22-9, 10-8
Coach: LaVall Jordan
Coach Record: 59-40 at Butler, 70-64 overall
Key Departed Players:
Kamar Baldwin, Guard, 16.2 ppg
Sean McDermott, Forward, 11.7 ppg
Jordan Tucker, Forward, 8.9 ppg
Henry Baddley, Guard, 3.2 ppg
Derrik Smiths, Center, 3.1 ppg
Khalif Battle, Guard, 3.0 ppg
Key Returning Players:
Bryce Nze, Senior, Forward, 9.2 ppg
Bryce Golden, Junior, Forward, 7.9 ppg
Aaron Thompson, Senior, Guard, 7.2 ppg
Christian David, Senior, Forward, 2.6 ppg
Markeese Hastings, Sophomore, Forward, 1.0 ppg
John-Michael Mulloy, Sophomore, Forward, 0.6 ppg
Key New Players:
Jair Bolden, Senior, Guard, Grad Transfer from South Carolina
JaKobe Coles, Freshman, Forward
Chuck Harris, Freshman, Guard
Myles Tate, Freshman, Guard
Myles Wilmoth, Freshman, Forward
Projection:
Despite three of their top four scorers leaving, Butler still returns three solid full-time starters from last season. Bryce Nze had a solid debut campaign with the Bulldogs averaging 9.2 points, 6.6 rebounds and 1.4 assists. Nze led the Big East in field goal percentage with a 62.9% clip. Bryce Golden started all 31 games as a sophomore and averaged 7.9 points, 3.9 rebounds and 1.1 assists. Aaron Thompson is one of the best guards in the nation at doing all the little things on the court. Thompson was named a semifinalist for Naismith Defensive Player of the Year while his assist-to-turnover ratio was 31st in the nation. The three returners were all strong role players last season and will need to step up a level this year. One of Butler's biggest weaknesses was their thin bench. Christian David, Markeese Hastings and John-Michael Mulloy are the only reserves to return, none of which averaged more than three points per game. The only non-freshman newcomer for the Bulldogs is graduate transfer Jair Bolden. Bolden spent two seasons at George Washington before transferring to South Carolina as a junior. After averaging 11.2 points, 3.1 assists and 3.0 rebounds as a sophomore, Bolden regressed a bit in the SEC and averaged 8.5 points, 2.4 rebounds and 1.4 assists. Butler will also have four three-star freshmen joining the team. With the limited bench options, at least some of the freshmen will have to see rotation minutes this season. Butler is undoubtedly in a transition season, but they still should have enough talent to remain competitive in the Big East.
Projected Postseason Tournament: NIT
By the Numbers:
Scoring Offense: 68.5 (254th in nation, 10th in conference)
Scoring Defense: 62.1 (11, 1)
Field-Goal Percentage: 46.0 (55, 2)
Field-Goal Defense: 39.5 (22, 1)
Three-Point Field Goals Per Game: 6.8 (215, 6)
Three-Point Field-Goal Percentage: 34.1 (130, 5)
Free-Throw Percentage: 72.8 (111, 5)
Rebound Margin: 4.3 (55, 2)
Assists Per Game: 12.7 (208, 10)
Turnovers Per Game: 11.3 (32, 4)