Wofford Terriers
Overall Rank: #14
#1 SoCon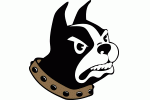 Wofford entered the playoffs last season on a roll. After losing their first two games of the season, the Terriers only lost one more time to Clemson entering the postseason. However, their momentum came to a screeching halt at home in a 28-21 loss to Kennesaw State, the same team that knocked them out of the 2018 playoffs. The Terriers have now reached the playoffs four straight years and that streak should continue.
2019 Record: 8-4, 7-1
2019 Postseason: FCS Playoffs
Coach: Josh Conklin (17-9 at Wofford, 17-9 overall)
Offensive Coordinator: Wade Lang
Defensive Coordinator: Sam Siefkes
Returning Leaders:
Rushing: Jacquez Allen, RB, 528 yards
Passing: Jimmy Weirick, QB, 58 yards
Receiving: T.J. Luther, WR, 447 yards
Tackles: Joe Beckett, LB, 50
Sacks: Michael Mason, DL, 7.0
Interceptions: Keyvaun Cobb, S, 2
Other Key Returnees: FB Nathan Walker, RB Ryan Lovelace, RB D'mauriae VanCleave, LB John Beckley, LB Brandon Brown
Key Losses: QB Joe Newman, RB Blake Morgan, OL Justus Basinger, OL Blake Jeresaty, OL Michael Ralph, LB Jireh Wilson, S Mason Alstatt, DB George Gbesee
Offense:
The potential concern with this group is the lack of experience on offense. Only two starters are back and running the triple option is not the easiest formation to plug in a ton of new players. Jimmy Weirick is the most experienced option at quarterback after appearing in five games over the last two seasons. Peyton Derrick played in a few games last year as well after transferring in from Appalachian State. Other than those two, the rest of the quarterbacks are true freshmen. The good news is that there are plenty of other proven rushing threats back. Jacquez Allen averaged an impressive 10.2 yards per carry in 2019 and Nathan Walker and Ryan Lovelace each carried the ball at least 75 times in 2019. D'mauriae VanCleave is dangerous on the ground as well, but he also led the team with 23 receptions. T.J. Luther is the other threat in the passing game, catching 19 passes for 447 yards and three touchdowns. As long as the new quarterback can efficiently run the offense and the new look offensive line can adjust quickly, Wofford's offense will do plenty of damage.
Defense:
The defense returns seven starters and that should help keep the Terriers among the best defensive teams in the Southern Conference. Michael Mason will again lead the front line after recording a team high 7.0 sacks and 10.5 tackles-for-loss in 2019. The linebackers need to replace leading tackle Jireh Wilson, but return a lot of experience. Joe Beckett, John Beckley and Brandon Brown ranked third, fourth and fifth on the team in tackles, respectively. The secondary will hope to create a few more turnovers this season, especially in timely situations, and that could make a huge difference when Wofford is going up against the tougher teams in the conference.
The Bottom Line:
With three straight conference titles under their belt, Wofford is the team to beat in the SoCon until proven otherwise. And it may take a while before any team is ready to put an end to that streak. If the current schedule holds true, Wofford will be tested right out of the gate. Their opening game is against Furman on September 5th, followed by a home date against The Citadel on September 12th. Those could prove to be the two toughest conference games on the schedule. If the Terriers can manage to win those two games, they should cruise to their fourth straight conference crown.
Projected Postseason: FCS Playoffs
2019 Team Stats:
Rushing Offense: 305.8 (3rd in nation, 1st in conference)
Passing Offense: 107.5 (121, 8)
Total Offense: 413.3 (36, 1)
Scoring Offense: 32.3 (28, 2)
Rushing Defense: 160.3 (65, 2)
Pass Defense: 175.0 (14, 3)
Total Defense: 335.3 (20, 1)
Scoring Defense: 22.1 (24, 2)
Turnover Margin: 0.00 (58, 4)
Sacks Allowed: 0.33 (1, 1)
Madness 2020 Recruit Rankings:
#25 Chuck Smith

#166 Ryan Ingram