Bradley Braves
2020-2021 Overall Rank: #98
Conference Rank: #3 Missouri Valley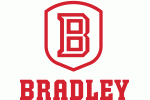 Coach Brian Wardle deserves a lot of credit for what he has done at Bradley. In his first season with the program the Braves went 5-27. After building up to 13 wins the next campaign, Bradley has now had three straight 20 or more win seasons. The last two of those resulted in NCAA Tournament berths, although one of those tournaments did not happen of course. Three starters are gone though and while another 20 win season is certainly doable, another trip to the NCAA Tournament could prove more difficult.
2019-20 Record: 23-11, 11-7
Coach: Brian Wardle
Coach Record: 81-86 at Bradley, 176-151 overall
Key Departed Players:
Darrell Brown, Guard, 15.5 ppg
Nate Kennell, Guard, 12.5 ppg
Koch Bar, Forward/Center, 6.2 ppg
Key Returning Players:
Elijah Childs, Senior, Forward, 14.8 ppg
Danya Kingsby, Senior, Guard, 7.2 ppg
Ja'Shon Henry, Junior, Forward, 9.5 ppg
Ville Tahvanainen, Sophomore, Guard, 6.6 ppg
Ari Boya, Junior, Forward/Center, 3.0 ppg
Antonio Thomas, Sophomore, Guard, 1.7 ppg
Key New Players:
Rienk Mast, RS Freshman, Forward
Kevin McAdoo, Junior, Guard, Transfer from Eastern Michigan
Terry Nolan Jr, Junior, Guard, Transfer from George Washington
Darius Hannah, Freshman, Center
Connor Linke, Freshman, Forward
Sean East II, Sophomore, Guard, Transfer from UMass, eligible
Jayson Kent, Freshman, Guard
Projection:
Elijah Childs has the talent to carry this team a long way. The 6-7 senior is coming off a great season in which he averaged 14.8 points and 8.6 rebounds. Ja'Shon Henry had a very impressive sophomore season, averaging 9.5 points and 6.0 rebounds. That may not be the biggest frontcourt around, but they should be able to handle it. Coach Wardle will try and get some more minutes out of Ari Boya, a 7-1 junior, but it seems unlikely that he will step in and play as many minutes as Koch Bar did last year. A few freshmen will be in the mix as well in the frontcourt, but do not be surprised if this team is a little bit smaller at times than they were last year. The lone returning starter on the perimeter is Danya Kingsby, who averaged 7.2 points and 2.1 assists as a junior. He will be the leader on the perimeter, but Bradley will need to find some weapons to join him. Ville Tahvanainen proved to be a dangerous shooter off the bench as a freshman and three Division I transfers are coming in too. Sean East II spent one year at Umass where he dished out 4.9 assists per game and added 9.3 points. Terry Nolan was a regular starter at George Washington and is certainly capable of stepping into a similar role at Bradley. Kevin McAdoo spent two seasons at Eastern Michigan and earned 21 starts. He should at least provide another solid shooting threat. There is enough talent here to pick up right where they left off, but it remains to be seen how all those new pieces fit together.
Projected Postseason Tournament: CBI/CIT
By the Numbers:
Scoring Offense: 71.7 (155th in nation, 3rd in conference)
Scoring Defense: 65.9 (74, 4)
Field-Goal Percentage: 44.1 (156, 6)
Field-Goal Defense: 39.4 (21, 1)
Three-Point Field Goals Per Game: 6.8 (222, 9)
Three-Point Field-Goal Percentage: 37.2 (24, 3)
Free-Throw Percentage: 73.7 (87, 3)
Rebound Margin: 5.1 (40, 3)
Assists Per Game: 13.4 (147, 4)
Turnovers Per Game: 11.8 (56, 2)