Monmouth Hawks
Overall Rank: #28
#2 Big South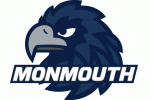 Monmouth has been at the heart of the resurgence of the Big South. The Hawks have had three great years in a row and went to the playoffs two of those seasons. In 2019 they won their first ever playoff game by knocking off Holy Cross in the first round. After that they got crushed 66-21 by James Madison, but that was not a huge surprise. The Hawks enter the 2020 season with a lot of big names gone, but that should not stop them from being one of the best teams in the Big South.
2019 Record: 11-3, 6-0
2019 Postseason: FCS Playoffs
Coach: Kevin Callahan (163-124 at Monmouth, 163-124 overall)
Offensive Coordinator: Jeff Gallo
Defensive Coordinator: Andy Bobik
Returning Leaders:
Rushing: Lonnie Moore, WR, 114 yards
Passing: Brandon Harris, QB, 53 yards
Receiving: Lonnie Moore, WR, 1,022 yards
Tackles: Da'Quan Grimes, LB, 115
Sacks: DJ Bailey, DE, 7.0
Interceptions: Anthony Budd, DB, 5
Other Key Returnees: WR Terrance Greene, WR Zach Tredway, WR Joey Aldarelli, OL Mahmoud Shabana, OL Justin Szuba, DB Justin Terry, DL Kahari Scarlett, LB DeJuan Cooper, DL Erik Massey, DB Anthony Budd, DB Eddie Morales
Key Losses: RB Pete Guerriero, RB Devell Jones, QB Kenji Bahar, TE Shawn Clark, OL AJ Farris, OL John Gallins, LB Evan Powell, DB Tymere Berry, DL Kyle Mullen, K Matt Mosquera
Offense:
Pete Guerriero was the heart and soul of the Hawks. During his senior season he rushed for 1,995 yards and 18 touchdowns. The offense could always rely on Guerriero. But when they needed to throw the ball, they had Kenji Bahar. During his senior campaign he threw for 3,684 yards and 30 touchdowns with just nine interceptions. Losing those two will make this offense look much, much different. Brandon Harris spent last season as Bahar's backup, but threw just eight passes. Shane McLaughlin spent two years at the junior college ranks before a very brief stint at Albany. He has the experience to compete with Harris for playing time this fall. The good news for the quarterbacks is that an abundance of talent is back at wide receiver. Lonnie Moore eclipsed the 1,000 yard mark in 2019 and Terrance Green was very close to it. Add in Zach Tredway and Joey Aldarelli and Monmouth has a ton of weapons. Finding a new, consistent weapon at running back could be the biggest issue for the Hawks.
Defense:
The defense has not been Monmouth's strength during their recent success, but the unit has not been bad either. And this year they could be very good. With DJ Bailey getting pressure on the quarterback and linebacker Da'Quan Grimes tackling everything in sight, the front seven is solid. The secondary is very experienced as well, led by playmaker Anthony Budd.
The Bottom Line:
Monmouth will not play this fall, although some of the Big South still may. The Hawks do have some questions to answer on the field, but this group will remain a contender in the Big South once they get back on the field.
Projected Postseason: None
2019 Team Stats:
Rushing Offense: 204.9 (21st in nation, 2nd in conference)
Passing Offense: 267.7 (23, 1)
Total Offense: 472.6 (7, 1)
Scoring Offense: 35.8 (13, 2)
Rushing Defense: 138.1 (31, 2)
Pass Defense: 234.8 (80, 6)
Total Defense: 372.9 (47, 2)
Scoring Defense: 27.2 (56, 2)
Turnover Margin: 0.86 (14, 1)
Sacks Allowed: 1.86 (46, 3)
Madness 2020 Recruit Rankings:
#149 Sheku Tonkara

#224 Jamir Barnes

#242 Tony Muskett