North Dakota Fighting Hawks
Overall Rank: #42
#6 Missouri Valley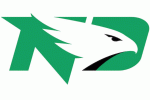 After a couple of years as an FCS Independent and playing a Big Sky schedule, North Dakota is now in the Missouri Valley Football Conference. The Fighting Hawks played a very difficult schedule last season, but still managed to go 7-4 and that was good enough to reach the playoffs. That trip was short with a first round loss at Nicholls, but it was a good season and now Coach Bubba Schweigert and company will look to build off that success and return to the playoffs.
2019 Record: 7-5, 0-0
2019 Postseason: FCS Playoffs
Coach: Bubba Schweigert (37-32 at North Dakota, 59-52 overall)
Offensive Coordinator: Danny Freund
Defensive Coordinator: Brett Holinka
Returning Leaders:
Rushing: Dalton Gee, RB, 210 yards
Passing: Tommy Schuster, QB, 168 yards
Receiving: Garett Maag, WR, 610 yards
Tackles: Jordan Canady, DB, 87
Sacks: Jaxon Turner, LB, 4.5
Interceptions: Noah Larson, LB, 2; C.J. Siegel, DB, 2
Other Key Returnees: WR Brock Boltmann, OL Ryan Tobin, DB Hayden Galvin
Key Losses: RB James Johannesson, QB Nate Ketteringham, WR Noah Wanzek, WR Travis Taivanen, LB Donnell Rodgers, DE Mason Bennett, LB Jade Lawrence, LB Andre Steiger, DB Hayden Blubaugh
Offense:
The offense has a lot of big shoes to fill and that will make life in the MVFC even more difficult. The quarterback spot is full of inexperience. Tommy Schuster played in three games during his redshirt freshman campaign, throwing for 168 yards and one touchdown. It was beneficial that Schuster got some playing time last season and that is what puts him ahead of a couple true freshmen in the quarterback pecking order. The top two wide receivers are gone too, but Garett Maag, who caught 59 passes for 610 yards and five touchdowns last season, is a solid piece to build around. To make matters worse for the offense, they'll be breaking in a new starting running back too. Dalton Gee is the most experience option and the most productive returning back, but Cameron McKinney and Luke Skokna should get plenty of opportunities as well.
Defense:
While the offense reloads, the defense will have to carry North Dakota. The numbers were not great last year, but that was in the pass happy Big Sky. In the MVFC, the Fighting Hawks will have to deal with a different type of offense. Most importantly, they will need to improve on their run defense that allowed 192.7 yards per game. Much of that will depend on linebackers Jaxon Turner, Ray Haas, Caden White and Noah Larson. The experience in the secondary, and not playing against so many Big Sky teams, should help bolster the pass defense. Jordan Canady, Hayden Galvin and Evan Holm are all experience seniors and C.J. Siegel is coming off a very promising freshman campaign.
The Bottom Line:
North Dakota is not going to come into the Missouri Valley and compete for a title, but they will want to prove to their new conference that they are a team that can get to that point in the not too distant future. The offense will need to find a few new playmakers and keep the turnovers down, but the defense should be able to keep the Fighting Hawks in the middle of the MVFC pack.
Projected Postseason: None
2019 Team Stats:
Rushing Offense: 121.8 (96th in nation)
Passing Offense: 262.1 (26)
Total Offense: 383.9 (60)
Scoring Offense: 26.6 (62)
Rushing Defense: 192.7 (93)
Total Defense: 397.6 (73)
Scoring Defense: 28.5 (68)
Turnover Margin: -0.67 (106)