East Tennessee State Buccaneers
2020-2021 Overall Rank: #128
Conference Rank: #3 SoCon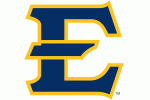 East Tennessee State had a superb 2019-2020 season. They won the SoCon regular season title, won the conference tournament and went 30-4 overall. But this team will look drastically different. Gone are last year's top six scorers and their head coach, Steve Forbes, who took the Wake Forest job. Coach Jason Shay stepped into the main job after serving as an assistant at ETSU for the last five years. But while this team is very different, thanks to a whole slew of transfers, the Buccaneers should again be competing for a conference title.
2019-20 Record: 30-4, 16-2
Coach: Jason Shay
Coach Record: 0-0 at ETSU, 0-0 overall
Key Departed Players:
Tray Boyd, Guard, 13.6 ppg
Bo Hodges, Guard, 12.7 ppg
Isaiah Tisdale, Guard, 9.2 ppg
Lucas N'Guessan, Center, 8.9 ppg
Daivien Williamson, Guard, 10.4 ppg
Jeromy Rodriguez, Forward, 9.1 ppg
Joe Hugley, Forward, 5.5 ppg
Key Returning Players:
Patrick Good, Senior, Guard, 7.5 ppg
Vonnie Patterson, Senior, Forward, 3.0 ppg
Charlie Weber, Sophomore, Forward, 2.3 ppg
Octavion Corley, Senior, Center, 1.3 ppg
Key New Players:
Damari Monsanto, RS Freshman, Forward
Ledarrius Brewer, Junior, Guard, Transfer from Southeast Missouri State
Silas Adheke, Senior, Forward, Grad Transfer from Northern Kentucky
Ty Brewer, Junior, Forward, Transfer from Southeastern Louisiana, pending waiver
Eric Hancik, Junior, Guard/Forward, JC Transfer
Truth Harris, Freshman, Guard
Marcus Niblack, Freshman, Guard
David Sloan, Senior, Guard, Transfer from Kansas State, pending waiver
Morrell Schramm, Freshman, Guard
Paul Smith, Freshman, Forward
Serrel Smith, Junior, Guard, Transfer from Maryland, pending waiver
Projection:
One could spend hours looking at what ETSU lost, but we will look at the future. The key returning players are seniors Patrick Good and Vonnie Patterson. Those two will have a role on this team, but if the Buccaneers are going to compete for a conference title, they'll need lots of help from a huge group of newcomers. Ledarrius Brewer from Southeast Missouri State will add a much needed boost to the backcourt. He tallied 12.5 points per game with the Redhawks two years ago. Freshmen Truth Harris and Marcus Niblack figure to make an impact on the perimeter as well. Silas Adheke brings some more experience to the frontcourt. The graduate transfer from Northern Kentucky started 28 games for a very good Norse squad and averaged 3.6 points and 4.6 rebounds. He will not do a ton of scoring, but Adheke is a tough interior presence. Redshirt freshman Damari Monsanto should find a spot in the rotation as well. And then there are three transfers who are hoping to be eligible to play this season. David Sloan could be the most important of the bunch. The senior averaged 5.3 points and 2.3 assists at Kansas State last season. The backcourt would get a big boost from Serrel Smith as well. The 6-4 junior never saw much playing time with Maryland, but he can turn into a solid combo guard if given the opportunity. The final potential newcomer this season is Ty Brewer from Southeastern Louisiana. Last year Brewer easily led the Lions with 14.9 points and 7.7 rebounds per game. If he is eligible and can do that for ETSU, this is a Bucs squad that will quickly get over the disappointment of missing out on the opportunity to play in the NCAA Tournament. Of course, at this point, the NCAA will have a lot to say about how good East Tennessee State will be in the 2020-2021 campaign.
Projected Postseason Tournament: CBI/CIT
By the Numbers:
Scoring Offense: 76.3 (46th in nation, 3rd in conference)
Scoring Defense: 63.1 (25, 1)
Field-Goal Percentage: 47.5 (17, 1)
Field-Goal Defense: 42.5 (159, 2)
Three-Point Field Goals Per Game: 7.6 (136, 9)
Three-Point Field-Goal Percentage: 34.6 (111, 7)
Free-Throw Percentage: 69.4 (225, 8)
Rebound Margin: 4.5 (48, 1)
Assists Per Game: 13.9 (108, 6)
Turnovers Per Game: 12.1 (83, 4)