Colgate Raiders
2020-2021 Overall Rank: #130
Conference Rank: #1 Patriot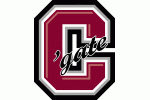 For the last three seasons, Colgate has been the team to beat in the Patriot League. In 2018 the Raiders reached the CBI, which was their first postseason appearance since 1996. A year later and Coach Matt Langel took his team to the NCAA Tournament. Once there, the 15th seeded Raiders gave Tennessee a run for their money, eventually losing 77-70. Last year Colgate won the regular season title again, but were upset in the conference tournament by Boston U. Colgate still would have appeared in the NIT, if there was an NIT.
2019-20 Record: 25-9, 14-4
Coach: Matt Langel
Coach Record: 139-151 at Colgate, 139-151 overall
Key Departed Players:
Rapolas Ivanauskas, Forward, 13.1 ppg
Will Rayman, Forward, 12.6 ppg
Key Returning Players:
Jordan Burns, Senior, Guard, 15.8 ppg
Nelly Cummings, Junior, Guard, 10.8 ppg
Tucker Richardson, Junior, Guard, 10.3 ppg
Jack Ferguson, Senior, Guard, 7.0 ppg
Keegan Records, Sophomore, Forward, 4.5 ppg
David Maynard, Senior, Guard, 2.0 ppg
Ryan Moffatt, Sophomore, Guard, 1.1 ppg
Key New Players:
Malcolm Bailey, Sophomore, Forward, JC Transfer
Alex Capitano, Freshman, Guard
Oliver Lynch-Daniels, Senior, Guard, Transfer from Houston Baptist
Sam Thompson, Freshman, Forward
Jeff Woodward, Freshman, Center
Projection:
Colgate's entire starting five averaged in double digits in the scoring column last season. Two of those five are gone though and it will not be easy for the Raiders to replace Rapolas Ivanauskas and Will Rayman. The two big men were both dynamic scorers who could shoot from long range and score in the paint and were by far the best two rebounders on the team. The frontcourt will turn to sophomore Keegan Records and junior college transfer Malcolm Bailey to help fill the massive hole in the frontcourt. Meanwhile, the team will rely heavily on the backcourt trio of Jordan Burns, Nelly Cummings and Tucker Richardson. Colgate ranked eighth in the nation last season with 10.1 made three-point fields goals per game and with the backcourt carrying even more of the load this time around, do not be surprised to see the Raiders make even more three-pointers in 2020-2021. Burns knocked down 88 long balls on the year and led the team with 15.8 points, 4.5 assists and 1.7 steals. The senior will garner much of the attention of the opposing defense, but Cummings and Richardson are more than capable of taking over a game if necessary. Senior Jack Ferguson is another proven shooter and Oliver Lynch-Daniels transfers in from Houston Baptist where he was a part-time starter in 2018-2019. This group has an amazing amount of talent on the perimeter, but the key to their potential success will be how much production they can get out of the frontcourt. Even if this group is forced to play small, they should win the Patriot League, but getting wins against bigger opponents will be difficult.
Projected Postseason Tournament:
NCAA
By the Numbers:
Scoring Offense: 76.1 (47th in nation, 1st in conference)
Scoring Defense: 68.1 (142, 3)
Field-Goal Percentage: 44.8 (118, 6)
Field-Goal Defense: 43.4 (206, 2)
Three-Point Field Goals Per Game: 10.1 (8, 1)
Three-Point Field-Goal Percentage: 35.7 (54, 1)
Free-Throw Percentage: 74.9 (56, 1)
Rebound Margin: 1.4 (140, 3)
Assists Per Game: 14.4 (68, 4)
Turnovers Per Game: 10.9 (19, 1)