Southern Utah Thunderbirds
2020-2021 Overall Rank: #137
Conference Rank: #3 Big Sky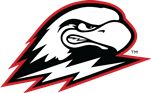 Southern Utah has not had much success recently. In Coach Todd Simon's first year with the program, the Thunderbirds went just 6-27. They have kept improving each season since then, culminating with a 2019 trip to the CIT. They likely would have returned to the CIT in 2020 had there been a postseason. But now the goal is to take a step up the Big Sky standings and be a serious competitor for their first trip to the NCAA Tournament since 2001. Senior John Knight III will be the leader of the team. The point guard is not a shooter, but he is extremely effective when attacking the basket and will spend a lot of time at the charity stripe. If he can help keep the team's turnovers down, Southern Utah will be in a position to win lots of games in 2020-2021.
2019-20 Record: 17-15, 9-11
Coach: Todd Simon
Coach Record: 36-63 at Southern Utah, 45-71 overall
Key Departed Players:
Cameron Oluvitan, Guard/Forward, 13.3 ppg
Andre Adams, Forward, 9.0 ppg
Dwayne Morgan, Forward, 9.1 ppg
Jakolby Long,Guard, 6.0 ppg
Key Returning Players:
John Knight III, Senior, Guard, 12.6 ppg
Dre Marin, Senior, Guard, 8.5 ppg
Maizen Fausett, Junior, Forward, 8.0 ppg
Harrison Butler, Junior, Guard, 7.4 ppg
Key New Players:
Yuat Alok, Senior, Forward/Center, Transfer from UCF
Kingsley Box, Freshman, Guard
Nick Fleming, Junior, Guard JC Transfer
Aanen Moody, Sophomore, Guard, Transfer from North Dakota
Marquis Moore, Junior, Guard/Forward, Transfer from Detroit Mercy, not eligible
Kenyuoe Ondaan, Freshman, Guard
Jason Spurgin, Freshman, Center
Projection:
Knight is not the only player returning. Dre Marin and Maizen Fausett were starters last season and Harrison Butler was a great sixth man. Marin may be the most important of the returning players since he will be asked to be the team's main three-point shooting threat now that Cameron Oluvitan is gone. Marin and Fausett are both solid rebounders, but they will get some help in that department from transfer Yuat Alok. A few years back the 6-11 center was considered one of the best junior college players in the country. After brief stints at TCU and UCF, he is now headed to Cedar City. Alok has the potential to be a difference maker for SUU, but at the least he will provide some quality depth and size to the roster. Nick Fleming and Aanen Moody are also experienced newcomers who should make an immediate impact. Fleming comes from the junior college ranks, while Moody spent three years at North Dakota. After redshirting in 2017-2018, Moody came out firing in 2018-2019. He knocked down 81 three-pointers and averaged 9.7 points per game. Last season Moody missed nearly all of the year with an injury. If he can pick up where he left off, Southern Utah should see a boost in their outside shooting efficiency and that is great news for a team that should still be strong on the defensive end. In games where buckets are tough to come by, making a few extra shots can turn some close losses into wins.
Projected Postseason Tournament: CBI/CIT
By the Numbers:
Scoring Offense: 72.8 (125th in nation, 4th in conference)
Scoring Defense: 66.3 (86, 3)
Field-Goal Percentage: 45.3 (95, 6)
Field-Goal Defense: 39.7 (25, 1)
Three-Point Field Goals Per Game: 6.1 (282, 7)
Three-Point Field-Goal Percentage: 33.1 (193, 8)
Free-Throw Percentage: 71.6 (151, 6)
Rebound Margin: 5.0 (41, 1)
Assists Per Game: 12.0 (262, 8)
Turnovers Per Game: 13.5 (208, 8)