Southern Jaguars
2020-2021 Overall Rank: #143
Conference Rank: #1 SWAC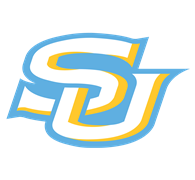 After winning 14 of their last 16 games, Southern ended last season as the hottest team in the SWAC. They never got the opportunity to see where that streak would take them, but the Jaguars can head into the 2020-2021 campaign with plenty of momentum. The momentum was prevalent on the recruiting trail as well. Coach Sean Woods has brought in five quality newcomers. Andre Allen should make the biggest impact right away. The 6-9 forward started his collegiate career at Arizona State before going the junior college route. Harrison Henderson is another big man who started in the Pac-12. He spent two seasons at USC and last season at Milwaukee. Versatile forward Andre Toure had some very promising moments while at Howard and Samkelo Cele averaged 15.3 points and 9.1 rebounds at Northeastern Oklahoma A&M last season.
2019-20 Record: 17-15, 13-5
Coach: Sean Woods
Coach Record: 24-40 at Southern, 151-190 overall
Key Departed Players:
Amel Kuljuhovic, Center, 8.0 ppg
Darius Williams, Forward, 6.5 ppg
Sam Mack, Forward, 1.8 ppg
Montese Blake, Guard, 4.5 ppg
Key Returning Players:
Ashante Shivers, Senior, Guard, 9.5 ppg
Micah Bradford, Senior, Guard, 8.8 ppg
Lamarcus Lee, Senior, Guard, 7.2 ppg
Damiree Burns, Sophomore, Forward, 8.6 ppg
Jayden Saddler, Junior, Guard, 6.1 ppg
Brandon Brooks, Senior, Guard, 5.6 ppg
Skyler Baggs, Senior, Forward, 3.7 ppg
Isaiah Rollins, Junior, Guard, 3.1 ppg
Key New Players:
Andre Allen, Senior, Forward, JC Transfer
Harrison Henderson, Senior, Forward/Center, Transfer from Milwaukee
Andre Toure, Junior, Forward, Transfer from Howard
Samkelo Cele, Junior, Guard/Forward, JC Transfer
DeSean Woods, Freshman, Guard
Projection:
The newcomers in the frontcourt will be joined by sophomore Damiree Burns, who tallied 8.6 points and 4.7 rebounds last season. It may take some time for the new look frontcourt to come together, but by the time SWAC play begins, there may not be a better frontcourt in the conference. Meanwhile, the Jaguars will gladly rely on their talented group on the perimeter. Micah Bradford may have been the most pleasant surprise last season. After transferring in from Valparaiso, where he usually came in off the bench, Bradford tallied 8.8 points and 3.4 assists for Southern. He also connected on a team high 40 three-pointers. Junior Jayden Saddler took a step back last season when the more versatile Bradford emerged. However, Saddler is still a dangerous drive and dish point guard who can finish around the basket. Brandon Brooks and Ashante Shivers, who led the team with 9.5 points per game, will help Bradford in the three-point shooting department. Lamarcus Lee is not the biggest guard on the roster, but he was the most productive rebounding guard, tallying 4.1 per game. It may be important for Lee and Shivers to do a little extra work on the glass while the frontcourt gets their feet wet in the new system. Last year Coach Woods built a winning team with a lot of new faces. This year he has brought in quite a few new players again, but there is much more talent returning as well. Even if the pieces do not fit together as well as hoped, this is a Southern team that will look to return to the NCAA Tournament for the first time since they lost in the First Four to Holy Cross in 2016.
Projected Postseason Tournament:
NCAA
By the Numbers:
Scoring Offense: 69.8 (217th in nation, 6th in conference)
Scoring Defense: 67.1 (116, 1)
Field-Goal Percentage: 44.0 (166, 3)
Field-Goal Defense: 43.5 (211, 5)
Three-Point Field Goals Per Game: 5.3 (323, 4)
Three-Point Field-Goal Percentage: 31.2 (284, 2)
Free-Throw Percentage: 67.9 (271, 5)
Rebound Margin: 3.7 (69, 1)
Assists Per Game: 13.3 (157, 3)
Turnovers Per Game: 14.0 (259, 3)