Miami Redhawks
2020-2021 Overall Rank: #144
Conference Rank: #4 Mid-American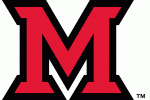 Miami had a forgettable 2019-2020 campaign. The two previous seasons the RedHawks went 8-10 and 7-11 in Mid-American Conference play. Last season they won just five. Back in 2017-2018, Coach Jack Owens' first year with the program, the team even went to the CBI. The problem last season was largely due to inexperience. There was just one senior on the roster. That does not mean everybody else is back though as Nike Sibande, the only player to average in double digits in the scoring department last season, has opted to transfer.
2019-20 Record: 13-19, 5-13
Coach: Jack Owens
Coach Record: 41-50 at Miami, 41-50 overall
Key Departed Players:
Nike Sibande, Guard, 13.9 ppg
Bam Bowman, Forward, 6.6 ppg
Key Returning Players:
Dalonte Brown, Senior, Forward, 9.5 ppg
Dae Dae Grant, Sophomore, Guard, 9.3 ppg
Myja White, Sophomore, Guard, 2.3 ppg
Mekhi Lairy, Junior, Guard, 8.2 ppg
Isaiah Coleman-Lands, Junior, Guard, 8.1 ppg
Milos Jovic, Senior, Guard, 5.2 ppg
Elijah McNamara, Junior, Forward, 4.5 ppg
Josh Brewer, Junior, Forward, 2.9 ppg
Precious Ayah, Senior, Forward, 2.8 ppg
Key New Players:
Jackson Ames, Freshman, Center
James Beck, Junior, Forward, Transfer from Oakland
Luka Eller, Freshman, Forward
Javin Etzler, RS Freshman, Forward
Bryson Tatum, Freshman, Guard
Projection:
Sibande may be gone, but Miami returns four players who averaged between 8.1 and 9.5 points per game. The best of the bunch could be Dae Dae Grant. As a freshman last season he averaged 9.3 points per game and showed plenty of potential to develop into a big time scoring threat. If he starts knocking down three-pointers more consistently, Grant will be in for a big sophomore season. Isaiah Coleman-Lands will likely be the most prolific outside shooter after connecting on a team high 60 long balls last season. Everybody else on the roster is at least a threat to shoot from outside and that can make Miami very difficult to defend. The big man who can stretch the defense is Dalonte Brown, who averaged 9.5 points and 5.2 rebounds as a junior. Junior Mekhi Lairy will be in charge of getting all of the shooters the ball after tallying 2.8 assists in 2019-2020. The backcourt is young, but should be in good shape. The key for the RedHawks will be getting help for Brown in the frontcourt. Elijah McNamara has some experience and Coach Owens' group of newcomers will add a lot of options. Most ready to contribute right away is Oakland transfer James Beck. He did not make a huge impact with the Grizzlies, but Beck can add an experienced rebounder for Miami. If those newcomers can be productive, the Miami backcourt should be able to do enough to get the team on the cusp of another postseason berth.
Projected Postseason Tournament: None
By the Numbers:
Scoring Offense: 70.9 (183rd in nation, 8th in conference)
Scoring Defense: 71.1 (226, 8)
Field-Goal Percentage: 42.4 (248, 10)
Field-Goal Defense: 43.6 (217, 11)
Three-Point Field Goals Per Game: 8.4 (60, 5)
Three-Point Field-Goal Percentage: 33.9 (146, 5)
Free-Throw Percentage: 72.7 (113, 5)
Rebound Margin: -1.8 (265, 11)
Assists Per Game: 12.0 (262, 8)
Turnovers Per Game: 11.3 (38, 2)