Arizona State Sun Devils
Overall Rank: #17
Conference Rank: #3 Pac-12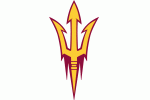 Arizona State heads into the 2020 season with a ton of confidence as they bring back one of the more dynamic hitting lineups in all of college baseball. The Sun Devils won 38 games in 2019 and scored a total of 469 runs last season and are a threat to reach or surpass that number this season. It's been a bit of a grind for head coach Tracy Smith and his staff to get Arizona State back into the national conversation. The Sun Devils had losing records in 2017 and 2018 but bounced back nicely to make the NCAA Tournament in 2019 which lends to a lot optimism heading into 2020.
2019: 38-19, 16-13
2019 Postseason: NCAA
Coach: Tracy Smith
Key Departed Players:
Hunter Bishop, OF, .342 BA, 22 HR, 63 RBI, 12 SB
Lyle Lin, C, .299 BA, 0 HR, 9 RBI
Carter Aldrete, INF, .284 BA, 9 HR, 35 RBI
Sam Romero, P, 4.23 ERA, 3-2 W/L, 44.2 IP, 21 BB, 39 SO
Chaz Montoya, P, 2.81 ERA, 3-0 W/L, 25.2 IP, 14 BB, 22 SO
Alec Marsh, P, 3.46 ERA, 9-4 W/L, 101.1 IP, 36 BB, 99 SO
Key Returning Players:
Spencer Torkelson, INF, .351 BA, 23 HR, 66 RBI
Trevor Hauver, OF, .339 BA, 13 HR, 50 RBI
Alika Williams, INF, .333 BA, 4 HR, 53 RBI, 9 SB
Gage Workman, INF, .330 BA, 8 HR, 42 RBI, 9 SB
Sam Ferri, C, .269 BA, 2 HR, 24 RBI
RJ Dabovich, P, 4.75 ERA, 7-1 W/L, 53.0 IP, 26 BB, 47 SO
Erik Tolman, P, 3.38 ERA, 3-1 W/L, 48.0 IP, 36 BB, 49 SO
Boyd Vander Kooi, P, 5.59 ERA, 4-4 W/L, 95.0 IP, 39 BB, 85 SO
Projection:
Arizona State will be a very difficult team to deal with for opposing pitchers all season long. Spencer Torkelson hit .351 with 23 homeruns, 66 runs batted in, a .446 on-base percentage and a .707 slugging percentage. Trevor Hauver is another big-time power hitting threat as he is coming off a 13-homerun season along with 50 runs batted in and a .339 batting average. Alika Williams and Gage Workman are also big time MLB Draft prospects that had huge seasons in 2019 as they hit .333 and .330 respectively along with combining to drive in 95 runs between them. The biggest acquisition for the Sun Devils in the offseason was getting Jason Kelly to come down from Washington to take over as the pitching coach. Kelly is one of the top developers of pitchers in the country and was a big reason why the Huskies went to the College World Series in 2018 due to his recruiting. RJ Dabovich, Erik Tolman, and Bryce Vander Kooi should take significant steps forward under Kelly's tutelage. Arizona State will get tested by a tough schedule that is road heavy but with their ability to score runs they should contend all year long for the Pac-12 title.