TCU Horned Frogs
Overall Rank: #23
Conference Rank: #4 Big 12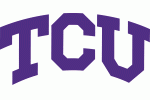 After missing the NCAA Tournament in 2018, TCU barely snuck in last year. They finished with a losing record in Big 12 play, but did just enough in the eyes of the selection committee. The Horned Frogs made a bit of noise in the tournament too, reaching the Regional Finals where they lost to host Arkansas. While many pieces of that team are gone, Coach Jim Schlossnagle has a lot of talent coming into the program and this is a group that could take a big step forward and begin to resemble the group from 2014 to 2017 that reached the College World Series four years in a row.
2019: 34-28, 11-13
2019 Postseason: NCAA
Coach: Jim Schlossnagle
Key Departed Players:
Jake Guenther, IF, .345 BA, 10 HR, 42 RBI, 14 SB
Josh Watson, OF, .324 BA, 10 HR, 42 RBI, 10 SB
Johnny Rizer, OF, .315 BA, 11 HR, 39 RBI
Adam Oviedo, IF, .291 BA, 3 HR, 33 RBI
Nick Lodolo, P, 2.36 ERA, 6-6 W/L, 103.0 IP, 131 SO
Brandon Williamson, P, 4.19 ERA, 4-5 W/L, 77.1 IP, 89 SO
Key Returning Players:
Connor Shepherd, IF, .297 BA, 6 HR, 22 RBI
Austin Henry, IF, .288 BA, 7 HR, 43 RBI, 11 SB
Charles King, P, 3.36 ERA, 6-3 W/L, 85.2 IP, 53 SO
Projection:
As far as experience is concerned, Charles King should be the ace of this staff. He had a solid junior season, going 6-3 with a 3.36 ERA. However, he will have a ton of competition. TCU is bringing in six transfers who could make an immediate impact on the mound. Most notable are junior college transfers Harrison Beethe, Drew Hill and Johnny Ray. Caleb Sloan and Russell Smith are also back after missing all of last season with injuries. Smith made 11 starts as a freshman back in 2018. It may take a little bit of time for all the pieces to come together, but sooner or later this should be one of the best pitching staffs in the Big 12. And if TCU is better on the mound, they will not have to be all that explosive offensively. Connor Shepherd and Austin Henry are the most experienced options and the Horned Frogs will also get Porter Brown and Hunter Wolfe back from injury after missing much of last season. There are a slew of transfers coming in to help on offense too and that should help replace the loss of Jake Guenther, Josh Watson and Johnny Rizer. But in the end TCU's success, or lack thereof, will depend on how well they can do on the mound. If all these options live up to their potential, TCU will not just be back in the tournament, but will be a serious contender to get to Omaha.