Arizona State Sun Devils
Overall Rank: #24
Conference Rank: #4 Pac-12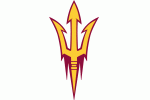 Arizona State battled their way through the 2019 season as they won 35 games were able to slug their way to the NCAA Tournament. The Sun Devils pushed an excellent Alabama team down at the Tuscaloosa Regional, but the environment of Rhoads Stadium would prove to be too much for Arizona State to overcome. Head Coach Trisha Ford heads into the 2020 season looking to get the pitching staff back on track. That was the Achilles heel for the Sun Devils in 2019 as they had a team earned run average of 4.64.
2019: 35-20, 13-11
2019 Postseason: NCAA
Coach: Trisha Ford
Key Departed Players:
Morgan Howe, OF, .402 BA, 12 HR, 61 RBI, 10 SB
Skylar McCarty, OF, .331 BA, 6 HR, 36 RBI, 5 SB
Key Returning Players:
Kindra Hackbarth, OF, .412 BA, 17 HR, 57 RBI, 15 SB
Jade Gortarez, INF, .347 BA, 6 HR, 35 RBI, 6 SB
Bella Loomis, INF, .323 BA, 10 HR, 41 RBI, 9 SB
Kiara Kennedy, INF, .274 BA, 3 HR, 13 RBI
DeNae Chatman, INF, .273 BA, 12 HR, 46 RBI
Yannira Acuna`, OF, 271 BA, 3 HR, 19 RBI
Maddi Hackbarth, C, .262 BA, 19 HR, 53 RBI
Abby Andersen, P, 4.14 ERA, 10-7 W/L, 89.2 IP, 49 BB, 28 SO
Samantha Mejia, P, 4.20 ERA, 16-10 W/L, 128.1 IP, 60 BB, 95 SO
Cielo Meza, P, 5.43 ERA, 7-3 W/L, 98.0 IP, 58 BB, 78 SO
Projection:
Kindra Hackbarth is one of the top returning players in the nation as she can do it all at the plate. Hackbarth hit .412 with 17 homeruns, 57 runs batted in, and 15 stolen bases. It is not unreasonable to expect Hackbarth to hit over .400 and reach 20 homeruns and 20 stolen bases in 2020. Maddi Hackbarth, DeNae Chatman, and Bella Loomis will be back, and they will create a formidable power hitting trifecta that will keep Arizona State in every game that they play. This trio combined for 41 homeruns and 140 runs batted in last year and have the potential to be even better this season to offset the loss of Morgan Howe and Skylar McCarty. Samantha Mejia and Abby Andersen accounted for 26 of the 35 wins in the circle in 2019 for the Sun Devils. Mejia and Andersen will need to take a step forward with their production in the circle this season by reducing the number of walks and keeping the ball in the ballpark. Cielo Meza will be back in the rotation as well as she won seven games last season and limited opposing hitters to a .255 batting average. Arizona State will score runs with anyone and, if they can shore the pitching and their defense, the Sun Devils have a chance to win 40 games in 2020.
Madness 2020 Draft Rankings:
#10 Kindra Hackbarth