Southern Miss Golden Eagles
Overall Rank: #35
Conference Rank: #1 Conference USA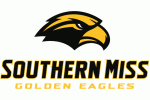 Southern Miss has been extremely consistent under the leadership of Coach Scott Berry. In his ten seasons leading the Golden Eagles, they have never finished worse than third in the Conference USA standings. There have also been six NCAA Tournament appearances during that span, including each of the last four campaigns. The potent offense will miss Bryant Bowen, Hunter Slater and Matt Wallner, who all hit over .300 and combined for 45 homeruns, but there is enough talent on this roster to make it five straight NCAA Tournaments.
2019: 40-21, 20-10
2019 Postseason: NCAA
Coach: Scott Berry
Key Departed Players:
Bryant Bowen, C, .341 BA, 11 HR, 51 RBI
Matt Wallner, OF, .323 BA, 23 HR, 60 RBI
Hunter Slater, OF, .302 BA, 11 HR, 59 RBI
Stevie Powers, P, 3.86 ERA, 5-4 W/L, 58.1 IP, 43 SO
Key Returning Players:
Gabe Montenegro, OF, .342 BA, 6 HR, 25 RBI
Matthew Guidry, IF, .297 BA, 8 HR, 47 RBI
Danny Lynch, IF, .296 BA, 2 HR, 40 RBI
Will McGillis, IF/OF, .223 BA, 1 HR, 15 RBI
Walker Powell, P, 2.81 ERA, 6-2 W/L, 99.1 IP, 73 SO
Cody Carroll, P, 3.86 ERA, 3-3 W/L, 63.0 IP, 50 SO
Projection:
Coach Berry obviously had to go out and get a lot of new hitters. Players like junior college transfer Austen Izzio and Arkansas transfer Andrew Stanley will bring some more experience to the plate, but there are quite a few quality hitters coming back as well. Gabe Montenegro and Matthew Guidry led the team in on-base percentage last season and combined for 14 homeruns. Guidry also drove in 47 runs. Danny Lynch, Will McGillis and Hunter LeBlanc all have plenty of starting experience and some success at the plate. They will be asked to do more this year and help replace the lost production. At the least, Coach Berry has quite a few options and the offense should be solid, even if less explosive than last year. Walker Powell opted to return for his senior season after hurling 99.1 innings with a 2.81 ERA last season. Gabe Shepard, Ryan Och, Hunter Stanley and Cody Carroll are all coming off very good years in 2019 and will look to take a step up in 2020. Junior college transfer Tyler Lantz and Mississippi State transfer Tyler Spring have the talent to make a big impact. In the end, the pitching staff should be the best in the conference and that will have Southern Miss right in the mix for a conference title.