Boise State Broncos
Overall Rank: #31
Conference Rank: #2 Mountain West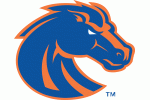 Boise State continued to emerge on the national stage in college softball last season. The Broncos earned an at-large bid to the NCAA Tournament and were sent to the Gainesville Regional. They beat Stanford twice in impressive fashion to make it to the regional final where they fell to Florida 5-0. Head Coach Maggie Huffaker and her staff did an excellent job in year one of enhancing a winning culture by returning to the NCAA Tournament. Looking ahead to 2020 it will be interesting to see how the Broncos respond as they won't be able to sneak up on anyone.
2019: 36-16, 12-12
2019 Postseason: NCAA
Coach: Maggie Huffaker
Key Departed Players:
Kora Wade, OF, .401 BA, 3 HR, 18 RBI, 25 SB
Rebekah Cervantes, INF, .359 BA, 12 HR, 49 RBI, 7 SB
Gianna Mancha, P, 4.09 ERA, 12-8 W/L, 114.1 IP, 48 BB, 67 SO
Key Returning Players:
Ashlyn Adams, OF, .349 BA, 5 HR, 38 RBI
Bradie Fillmore, UTIL, .348 BA, 15 HR, 50 RBI
Jessica McKay, OF, .323 BA, 9 HR, 38 RBI, 4 SB
Alison Seng, INF, .297 BA, 3 HR, 35 RBI
Karlee Johnson, INF/OF, .273 BA, 4 HR, 25 RBI
Serena Huchingson, C/1B, .246 BA, 4 HR, 15 RBI
Kelsey Broadus, P, 3.88 ERA, 15-7 W-L, 134.2 IP, 64 BB, 100 SO
Micaela Leal, P, 4.06 ERA, 2-0 W-L, 37.2 IP, 17 BB, 22 SO
Veronica Lynch, P, 4.84 ERA, 2-0 W-L, 22.1 IP, 7 BB, 7 SO
Projection:
This Boise State team is going to rely on its offense as Ashlyn Adams, Bradie Fillmore, and Jessica McKay will form a strong core within the lineup. Fillmore and McKay are the best power hitters as they combined for 24 homeruns and 88 runs batted in last season. Adams provides a nice mix of hitting for a high average along with some power as she hit .349, with five homeruns and 38 runs batted in. Alison Seng, Karlee Johnson, and Serena Huchingson will lengthen this lineup and have the ability to chip in some timely homeruns along the way. Kelsey Broadus will be the ace of the pitching staff as she had a 3.88 earned run average and won 15 games to lead the Broncos in 2019. Michaela Leal and Veronica Lynch will be counted on heavily to replace the lost production of Gianna Mancha who transferred to UCF in the offseason. The schedule is going to have its share of tests with games against Kentucky, Texas, Arizona, Oregon and a visit from North Carolina. If the offense lives it up to its end of the bargain it should be enough for Boise State to find a way back to the NCAA Tournament in 2020.