Illinois Fighting Illini
Overall Rank: #40
Conference Rank: #3 Big Ten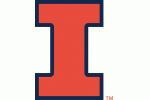 Last year Illinois reached the NCAA Tournament for the first time since their 2015 trip to the Super Regionals. This trip did not go nearly as well though. The Illini lost their first two games to Clemson and Jacksonville State and went home very quickly. This season Coach Dan Hartleb has some big holes to fill with two starting pitchers and their top four hitters gone.
2019: 36-21, 15-9
2019 Postseason: NCAA
Coach: Dan Hartleb
Key Departed Players:
Grant Van Scoy, IF, .347 BA, 2 HR, 22 RBI
Zac Taylor, OF, .321 BA, 10 HR, 29 RBI, 23 SB
Michael Massey, IF, .317 BA, 5 HR, 28 RBI
Jack Yalowitz, OF, .295 BA, 5 HR, 31 RBI
Andy Fisher, P, 2.75 ERA, 7-1 W/L, 101.1 IP, 95 SO
Cyrillo Watson, P, 3.65 ERA, 5-2 W/L, 69.0 IP, 49 SO
Key Returning Players:
Cam McDonald, IF/OF, .281 BA, 1 HR, 34 RBI
Kellen Sarver, 1B/C, .269 BA, 4 HR, 29 RBI
Ty Weber, P, 3.28 ERA, 4-3 W/L, 79.2 IP, 46 SO
Garrett Acton, P, 2.18 ERA, 2-3 W/L, 33.0 IP, 34 SO, 19 SV
Projection:
Despite all the departures, Illinois has some talent returning. Ty Weber will look to emerge as the ace of the starting rotation after posting a 3.28 ERA in 14 starts last season. Weber is not an overpowering pitcher, striking out just 46 batters in 79.2 innings, but he is a solid pitcher who will keep the ball over the plate. Ty Rybarczyk should step into a starting role after an amazing freshman season at Parkland College where he went 8-1 with a 0.96 ERA and earned junior college All-American second-team honors. When the Illini get to the bullpen, they will look to All-American closer Garrett Action. If Illinois is going to return to the NCAA Tournament, they will have to find some new hitters. Cam McDonald and Kellen Sarver are the key returning hitters, but Coach Hartleb will look to his newcomers to make a big impact. Nick Menken has Division I experience with Virginia Tech. Two years ago he was a regular starter at centerfield before missing most of last season with an injury. Nathan Aide and Garrett McGowan were both junior college All-Americans and fellow juco transfers Alex Steinbach and Taylor Jackson have the talent to make an immediate impact as well. It may take some time for this group to come together, but by the time Big Ten play rolls around, this could be one of the better teams in the conference.