Arizona State Sun Devils
Overall Rank: #17
Conference Rank: #5 Pac-12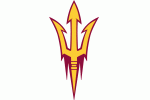 Arizona State made a nice run to the Sweet 16 last season as they went on the road to Miami and knocked off the Hurricanes 57-55 in Coral Gables. Head Coach Charli Turner-Thorne has elevated the Sun Devils into a very consistent one as Arizona State has won at least 20 games in six straight seasons, including two Sweet 16 appearances within those six tournaments runs.
2018-19 Record: 22-11, 10-7
2018-19 Postseason: NCAA
Coach: Charlie Turner-Thorne
Coach Record: 444-257 at Arizona State, 484-297 overall
Key Departed Players (starters in bold)
Kianna Ibis, Forward, 14.1 ppg
Courtney Ekmark, Guard/Forward, 10.3 ppg
Key Returning Players (starters in bold)
Robbi Ryan, Senior, Guard, 7.2 ppg
Reili Richardson, Senior, Guard, 5.1 ppg
Jamie Ruden, Senior, Forward, 4.5 ppg
Iris Mbulito, Sophomore, Guard/Forward, 4.2 ppg
Kiara Russell, Senior, Guard, 3.5 ppg
Key New Players
Sara Bejedi, Freshman, Guard
Sydnei Caldwell, Freshman, Forward
Ja'Tavia Tarpley, Senior, Forward/Center
Eboni Walker, Freshman, Forward
Projection:
There is some work to be done offensively for the Sun Devils as they do need to push that scoring average up closer to 70 plus points per game in 2019-20. The increased production will give them a much better opportunity to get to an Elite Eight or Final Four. Reili Richardson and Robbi Ryan are two experienced guards that will be looking to boost their scoring production this season. Both players struggled a bit shooting the basketball last year as they both were under 40 percent from the floor. Arizona State will play a quality non-conference schedule as they have a trip to Minnesota, the Florida Gulf Coast Showcase, and will host BYU and Creighton. The Pac-12 schedule will have the Sun Devils play Oregon, Oregon State, UCLA twice while avoiding a road trip to the Bay Area thanks to the unbalanced schedule. If Arizona State can become effective knocking down outside shots and clean up their free throw shooting, as that probably costs them 4-6 points per game by itself, that would help them a great deal. Overall, look for another 20 plus win season in Tempe and a seventh consecutive trip to the NCAA Tournament.
Projected Postseason Tournament:
NCAA
By the Numbers:
Scoring Offense: 65.4(150th in nation, 10th in conference)
Scoring Defense: 58.2 (40, 1)
Field-Goal Percentage: 42.0 (95, 8)
Field-Goal Defense: 40.4 (199, 5)
Three-Point Field Goals Per Game: 6.0 (157, 11)
Three-Point Field-Goal Percentage: 32.3 (133, 8)
Free-Throw Percentage: 67.0 (249, 12)
Rebound Margin: 5.9 (39, 5)
Assists Per Game: 15.7 (43, 4)
Turnovers Per Game: 12.5 (19, 2)
Madness 2019 Women's Basketball Recruit Rankings:
#87 Eboni Walker

#134 Sydnei Caldwell