Purdue Boilermakers
2019-2020 Overall Rank: #25
Conference Rank: #5 Big Ten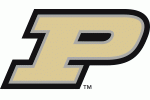 Purdue has won two Big Ten regular season titles in the last three years. That was in large part thanks to the play of the now departed Carson Edwards. Last season Edwards averaged 24.3 points per game and was clearly the Boilermakers go-to-scorer. In fact, Purdue often relied almost entirely on Edwards' scoring prowess. Without him, and second leading scoring Ryan Cline, Coach Matt Painter must find some new scoring threats if his team is going to come close to replicating their recent success.
2018-19 Record: 26-10, 16-4
2018-19 Postseason: NCAA
Coach: Matt Painter
Coach Record: 321-159 at Purdue, 346-164 overall
Key Departed Players:
Carson Edwards, Guard, 24.3 ppg
Ryan Cline, Guard, 12.0 ppg
Grady Eifert, Forward, 5.5 ppg
Key Returning Players:
Matt Haarms, Junior, Center, 9.4 ppg
Nojel Eastern, Junior, Guard, 7.5 ppg
Trevion Williams, Sophomore, Forward, 5.2 ppg
Evan Boudreaux, Senior, Forward, 5.2 ppg
Aaron Wheeler, Sophomore, Forward, 4.7 ppg
Sasha Stefanovic, Sophomore, Guard, 2.5 ppg
Eric Hunter Jr, Sophomore, Guard, 2.2 ppg
Key New Players:
Emmanuel Dowuona, RS Freshman, Center
Matt Frost, Freshman, Forward
Mason Gillis, Freshman, Forward
Brandon Newman, Freshman, Guard
Jahaad Proctor, Senior, Guard, Grad Transfer from High Point
Isaiah Thompson, Freshman, Guard
Jared Wulbrun, Sophomore, Guard, D III Transfer
Projection:
Purdue played a deep bench last season, so even with three starters gone, there are still quite a few experienced options available. Matt Haarms, a 7-3 junior, is back after averaging 9.4 points, 5.4 rebounds and a Big Ten leading 2.1 blocks. Senior Evan Boudreaux saw his minutes decrease as now sophomores Trevion Williams and Aaron Wheeler developed into more consistent players. At 6-9 and 280 pounds, Williams can eat up a lot of space in the paint. Coach Painter did not often play Haarms and Williams on the floor at the same time last year, but he has certainly played two more traditional big men in the past and that is something we should see this season. Wheeler will likely start beside Haarms and make way for Williams at times. The backcourt will have to reload around point guard Nojel Eastern, who averaged 7.5 points, 5.5 rebounds, 2.5 assists and 1.1 steals as a sophomore. In an effort to add some experience to the perimeter, Purdue grabbed grad transfer Jahaad Proctor from High Point where he averaged 19.4 points last season. Brandon Newman highlights the class of freshmen and should team up with Proctor to help replace Edwards and Cline when it comes to outside shooting. Nobody is going to replace all of Edwards' production, but this is a Purdue team that will continue to play tough enough defense to give themselves an opportunity to win just about every game on the schedule.
Projected Postseason Tournament:
NCAA
By the Numbers:
Scoring Offense: 76.7 (73rd in nation, 3rd in conference)
Scoring Defense: 67.3 (61, 7)
Field-Goal Percentage: 45.1 (136, 4)
Field-Goal Defense: 41.6 (60, 5)
Three-Point Field Goals Per Game: 10.1 (16, 1)
Three-Point Field-Goal Percentage: 37.4 (43, 2)
Free-Throw Percentage: 71.9 (135, 6)
Rebound Margin: 5.1 (29, 3)
Assists Per Game: 14.4 (91, 40
Turnovers Per Game: 10.6 (22, 4)
Madness 2019 Men's Basketball Recruit Rankings:
102 Brandon Newman