Boise State Broncos
Overall Rank: #28
Conference Rank: #1 MWC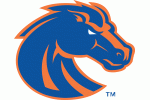 Boise State pulled off their second consecutive double in the Mountain West Conference as they won both the regular season title and the conference tournament. The Broncos won 28 games and gave one heck of a scare at Oregon State in the first round of the NCAA Tournament as they lost 80-75 to the Beavers in overtime. Three starters return this season for head coach Gordy Presnell and Boise State should be the favorite in the Mountain West race again this season.
2018-19 Record: 28-5, 16-2
2018-19 Postseason: NCAA
Coach: Gordy Presnell
Coach Record: 271-172 at Boise State, 667-299 overall
Key Departed Players (starters in bold)
Marta Hermida, Guard, 10.6 ppg
Joyce Harrell, Forward, 6.4 ppg
Tess Amundsen, Forward, 3.9 ppg
Key Returning Players (starters in bold)
Braydey Hodgins, Senior, Guard, 13.2 ppg
Riley Lupfer, Senior, Guard, 11.1 ppg
A'Shanti Coleman, Redshirt Senior, Forward, 9.7 ppg
Jayde Christopher, Senior, Guard, 6.3 ppg
Rachel Bowers, Sophomore, Forward, 6.2 ppg
Jade Loville, Sophomore, Guard, 3.8 ppg
Elle Woerner, Redshirt Senior, 3.6 ppg
Key New Players
Kimora Sykes, Freshman, Forward
Laia Soler, Freshman, Forward
Chinma Njoku, Freshman, Forward
Mallory McGwire, Redshirt Junior, Center
Projection:
Boise State was an excellent perimeter shooting team last season and they bring back Braydey Hodgins and Riley Lupfer to anchor a very experienced backcourt. These two combined to average 24.3 points per game last season and are excellent free throw shooters. A'Shanti Coleman and Mallory McGwire will be key players down in the post as Coleman averaged 9.7 points per game along with four rebounds in 2018-19. McGwire is a transfer from Oregon who is eligible after sitting out last season due to NCAA transfer rules. McGwire should provide plenty of rebounding and shot blocking. The Broncos will open up at home against Portland State in the Preseason WNIT. A trip to Louisville highlights the rest of the nonconference schedule on November 24th. New Mexico visits on December 4th to kick off the Mountain West Conference schedule. A trip to Wyoming on New Year's Day will be tricky as Boise State lost 64-52 last season to the Cowboys in Laramie. Overall, the depth and experience should be enough for the Broncos to win the conference again and earn a decent seed in the NCAA Tournament.
Projected Postseason Tournament:
NCAA
By the Numbers:
Scoring Offense: 75.1 (32nd in nation, 2nd in conference)
Scoring Defense: 63.9 (156, 5)
Field-Goal Percentage: 44.0 (38, 2)
Field-Goal Defense: 40.9 (223, 6)
Three-Point Field Goals Per Game: 8.1 (40, 2)
Three-Point Field-Goal Percentage: 35.2 (47, 2)
Free-Throw Percentage: 73.3 (71, 4)
Rebound Margin: 1.9 (131, 4)
Assists Per Game: 16.3 (25, 1)
Turnovers Per Game: 14.2 (84, 4)