LSU Tigers
Overall Rank: #31
Conference Rank: #7 SEC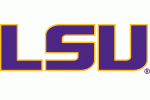 LSU has been a regular participant in the NCAA Tournament. But last year the Tigers missed out on the big dance and finished with a 16-13 record. The good news is that Coach Nikki Fargas returns nine of her top ten scorers. The Tigers are loaded with experienced upperclassmen and that is why a group that struggled offensively last season should be ready to take a big step forward.
2018-19 Record: 16-13, 7-9
2018-19 Postseason: None
Coach: Nikki Fargas
Coach Record: 148-106 at LSU, 215-127 overall
Key Departed Players (starters in bold)
Shanice Norton, Guard, 7.0 ppg
Yasmine Bidikuindila, Center, 0.8 ppg
Key Returning Players (starters in bold)
Ayana Mitchell, Senior, Forward, 13.5 ppg
Khayla Pointer, Junior, Guard, 12.5 ppg
Faustine Aifuwa, Junior, Center, 9.6 ppg
Jaelyn Richard-Harris, Senior, Guard, 5.1 ppg
Mercedes Brooks, Senior, Guard/Forward, 5.0 ppg
Jailin Cherry, Junior, Guard, 4.5 ppg
Karli Seay, Junior, Guard, 2.8 ppg
Rakell Spencer, Junior, Guard, 1.6 ppg
LaToya Ashman, Senior, Guard, 1.1 ppg
Key New Players
Sharna Ayres, Freshman, Guard
Domonique Davis, Freshman, Guard
Jalaysha Thomas, RS Sophomore, Forward
Awa Trasi, Junior, Forward, JC Transfer
Emily Ward, Freshman, Forward
Tiara Young, Freshman, Guard
Projection:
Khayla Pointer emerged as the leader of this team last season. The junior guard scored 12.5 points per game and dished out 4.5 assists. Pointer is very effective when attacking the basket, but she epitomizes LSU's shooting troubles. The Tigers were one of the least productive three-point shooting teams in the country and only made three long balls per game. Jaelyn Richard-Harris was the most prolific and consistent outside shooter last year, connecting on 25 long balls at a 35.2 percent clip. Mercedes Brooks and Jailin Cherry are occasionally decent outside shooters. LSU does not need to be a great three-point shooting team, but it would help create some space for the talented frontcourt scorers. Ayana Mitchell, a 6-2 senior, led the team with 13.5 points and 10.5 rebounds. She connected on 56.3 percent of her attempts from the floor, but only hit 51.1 percent of her free-throw attempts. Faustine Aifuwa compliments Mitchell's skills in the paint. The 6-5 junior added 9.6 points per game and is emerging as a very effective scoring threat. Aifuwa is also a solid rebounder and the team's top shot blocker. With some talented incoming freshmen, most notably Tiara Young and Domonique Davis, and some more experienced newcomers in the frontcourt, Coach Fargas has a very, very deep team. Even if none of the newcomers are ready to crack the regular rotation, LSU can go nine deep without much of a problem.
Projected Postseason Tournament:
NCAA
By the Numbers:
Scoring Offense: 61.7 (243rd in nation, 12th in conference)
Scoring Defense: 56.2 (16, 1)
Field-Goal Percentage: 42.5 (74, 8)
Field-Goal Defense: 39.6 (154, 8)
Three-Point Field Goals Per Game: 3.0 (346, 14)
Three-Point Field-Goal Percentage: 29.4 (261, 14)
Free-Throw Percentage: 61.9 (328, 14)
Rebound Margin: 5.4 (48, 5)
Assists Per Game: 12.4 (208, 9)
Turnovers Per Game: 16.9 (234, 12)
Madness 2019 Women's Basketball Recruit Rankings:
#71 Tiara Young

#77 Domonique Davis