Purdue Boilermakers
Overall Rank: #37
Conference Rank: #7 Big Ten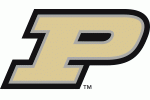 Purdue has missed out on the NCAA Tournament the last two seasons and has dropped towards the bottom of the Big Ten. However, Coach Sharon Versyp returns everybody from last year's roster and what was a very inexperienced squad is suddenly a team that can make a big push up the conference pecking order.
2018-19 Record: 19-15, 8-10
2018-19 Postseason: None
Coach: Sharon Versyp
Coach Record: 276-162 at Purdue, 393-227 overall
Key Departed Players (starters in bold)
Key Returning Players (starters in bold)
Karissa McLaughlin, Junior, Guard, 15.0 ppg
Dominique Oden, Senior, Guard, 14.4 ppg
Ae'Rianna Harris, Senior, Forward, 13.1 ppg
Tamara Farquhar, Junior, Guard, 6.7 ppg
Kayana Traylor, Sophomore, Guard, 6.6 ppg
Lyndsey Whilby, Junior, Guard, 3.8 ppg
Cassidy Hardin, Sophomore, Guard, 2.6 ppg
Fatou Diagne, Senior, Center, 1.8 ppg
Nyagoa Gony, Sophomore, Forward, 1.1 ppg
Ajah Stallings, Sophomore, Guard, 0.5 ppg
Key New Players
Jenelle Grant, Junior, Forward, Transfer from Pacific
Bria Harmon, Freshman, Guard
Roxane Makolo. Freshman, Guard
Rickie Woltman, Freshman, Forward
Projection:
Karissa McLaughlin, Dominique Oden and Ae'Rianna Harris all scored at least 13 points per game last year. McLaughlin led the way with 15.0 points and added a team high 3.8 assists per game and hit 88 three-pointers. Oden is a capable outside shooter as well and added 14.4 points per game. Harris is the main scoring threat in the paint and recorded a team high 9.4 points and 3.1 blocks on top of her 13.1 points. Tamara Farquhar is another very experienced player. The big 6-0 guard is a very strong rebounder and defender and can do some scoring inside the arc too. Sophomore Kayana Traylor provides Purdue with a quality secondary ballhandler who could emerge as a dangerous scoring threat if her outside shot starts falling. The starting five will take this team pretty far, but the Boilermakers do need more production from their bench. Lyndnsey Whilby and Cassidy Hardin were the only other players to average over ten minutes per game last year and that caught up with Purdue at times. With a year of experience under the belt of the bench players and a few newcomers heading into the program, Coach Versyp should feel more comfortable giving key minutes to the bench. If those pieces can eat up some time without a major drop in production, Purdue will be right in the mix for a NCAA Tournament bid.
Projected Postseason Tournament:
NCAA
By the Numbers:
Scoring Offense: 64.1 (183rd in nation, 12th in conference)
Scoring Defense: 62.5 (126, 5)
Field-Goal Percentage: 40.9 (137, 10)
Field-Goal Defense: 40.8 (214, 10)
Three-Point Field Goals Per Game: 5.7 (185, 5)
Three-Point Field-Goal Percentage: 32.8 (111, 8)
Free-Throw Percentage: 72.5 (92, 4)
Rebound Margin: 2.2 (116, 8)
Assists Per Game: 14,5 (87, 7)
Turnovers Per Game: 14.8 (116, 6)
Madness 2020 WNBA Draft Rankings:
#22 Ae'Rianna Harris

Madness 2019 Women's Basketball Recruit Rankings:
#40 Rickie Woltman

#149 Bria Harmon