Illinois Fighting Illini
2019-2020 Overall Rank: #52
Conference Rank: #9 Big Ten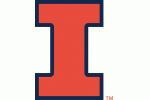 For the second season in a row, Illinois was a very up and down team. The Illini only won 12 games, but some of those were impressive wins. But for every big win, there were a handful of bad losses. Coach Brad Underwood needs to find some consistency in his third season leading the program. That has mostly been an issue on defense and in the rebounding department. There is work to do on those fronts, but with eight of their top nine scorers back, this is an Illinois team that has enough experience to improve enough across the board to push for an NCAA Tournament spot.
2018-19 Record: 12-21, 7-13
2018-19 Postseason: None
Coach: Brad Underwood
Coach Record: 26-39 at Illinois, 135-66 overall
Key Departed Players:
Aaron Jordan, Guard, 8.0 ppg
Adonis De La Rosa, Center, 2.3 ppg
Key Returning Players:
Ayo Dosunmu, Sophomore, Guard, 13.8 ppg
Trent Frazier, Junior, Guard, 13.7 ppg
Giorgi Bezhanishvilli, Sophomore, Forward, 12.5 ppg
Da'Monte Williams, Junior, Guard, 3.4 ppg
Andres Feliz, Senior, Guard, 8.3 ppg
Kipper Nichols, Senior, Forward, 5.7 ppg
Tevian Jones, Sophomore, Guard, 3.5 ppg
Alan Griffin, Sophomore, Guard, 2.8 ppg
Tyler Underwood, Senior, Guard, 0.2 ppg
Key New Players:
Benjamin Bosmans-Verdonk, Freshman, Forward
Kofi Cockburn, Freshman, Center
Jermaine Hamlin, Freshman, Center
Bernard Kouma, Freshman, Forward/Center
Jacob Grandison, Junior, Guard/Forward, Transfer from Holy Cross, not eligible
Austin Hutcherson, Junior, Guard, Transfer from Wesleyan, not eligible
Projection:
Ayo Dosunmu led the Illini with 13.8 points per game as a freshman. The big 6-5 guard can do it all and is not afraid to take the big shots. He has a decent outside shot and is getting even tougher when attacking the basket. Frazier is a speedy 6-1 junior who was right behind Dosunmu with 13.7 points per game. He hit a team high 80 three-pointers at a 40.6 percent clip. Speaking of shooters, with Aaron Jordan gone, Illinois will want to find another consistent outside shooting threat. Da'Monte Williams is a glue guy who is not much of a scoring threat, but will do everything else. Andres Feliz is an experienced senior who averaged a surprising 8.3 points per game last season, but he is not a shooter. Tevian Jones is a big 6-7 sophomore and fellow sophomore Alan Griffin did not get much of an opportunity last season. However, both shot around 30 percent from beyond the arc. Griffin is the likely candidate to provide a nice offensive spark off the bench. Giorgi Bezhanishvilli will again lead the frontcourt after averaging 12.5 points and 5.2 rebounds as a freshman. He can do some nice things in the paint and create scoring opportunities for himself. Kipper Nichols, a 6-6 senior, will add much of the frontcourt depth, but there are high hopes for the freshmen class, including 7-0, 290 pound Jamaican Kofi Cockburn. If this group can start playing better defense and take care of the basketball, they have the talent to compete in the Big Ten. If not, it will be another up and down campaign that features more downs than ups.
Projected Postseason Tournament: NIT
By the Numbers:
Scoring Offense: 72.7 (166th in nation, 4th in conference)
Scoring Defense: 75.2 (267, 14)
Field-Goal Percentage: 43.1 (249, 10)
Field-Goal Defense: 46.3 (308, 14)
Three-Point Field Goals Per Game: 7.8 (160, 4)
Three-Point Field-Goal Percentage: 34.5 (167, 6)
Free-Throw Percentage: 70.2 (190, 7)
Rebound Margin: -3.5 (312, 14)
Assists Per Game: 13.5 (167, 8)
Turnovers Per Game: 13.2 (200, 14)
Madness 2020 NBA Draft Rankings:
#15 Ayo Dosunmu

Madness 2019 Men's Basketball Recruit Rankings:
#42 Kofi Cockburn