TCU Horned Frogs
2019-2020 Overall Rank: #59
Conference Rank: #8 Big 12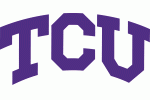 Coach Jamie Dixon has done a lot for this program during his three seasons as the TCU head coach. In 2016-2017, the Horned Frogs won an NIT championship. The next season they broke a 20 year NCAA Tournament drought. Last season TCU missed out on the NCAAs, but made another NIT run, making it all the way to the semifinals. Making it to the NCAA Tournament is the new yearly goal for this program, but there are some big holes to fill this year and making it back to the NIT is a more realistic expectation.
2018-19 Record: 23-14, 7-11
2018-19 Postseason: NIT
Coach: Jamie Dixon
Coach Record: 68-41 at TCU, 396-164 overall
Key Departed Players:
Kouat Noi, Forward, 13.9 ppg
Alex Robinson, Guard, 12.5 ppg
JD Miller, Forward, 10.8 ppg
Kendric Davis, Guard, 6.3 ppg
Key Returning Players:
Desmond Bane, Senior, Guard, 15.2 ppg
Kevin Samuel, Sophomore, Center, 7.4 ppg
RJ Nembhard, Sophomore, Guard, 4.4 ppg
Key New Players:
Dylan Arnette, RS Freshamn, Guard
Edric Dennis Jr, Senior Guard, Grad Transfer from UT Arlington
Francisco Farabello, Freshman, Guard
PJ Fuller, Freshman, Guard
Jaire Grayer, Senior, Guard, Grad Transfer from George Mason
Mickey Pearson Jr, Freshman, Forward
Diante Smith, Freshman, Forward
Taryn Todd, Freshman, Guard
Kevin Easley Jr, Sophomore, Forward, Transfer from Chattanooga, not eligible
Jaedon LeDee, Sophomore, Forward, Transfer from Ohio State, not eligible
Projection:
Desmond Bane is back to lead this team for one more season. The 6-5 senior has led the team in scoring the last two years, tallying 15.2 points on top of his 5.7 rebounds, 2.4 assists and 1.1 steals during the 2018-2019 campaign. Bane is a superb shooter and connected on 42.5 percent of his 160 three-point attempts. Sophomore center Kevin Samuel will be the main inside presence on both ends of the floor after averaging 7.4 points, 6.9 rebounds and 2.1 blocks as a freshman. Samuel has already proven to be a tough player on the defensive end and an efficient offensive threat as well. With that year of experience under his belt, expect Samuel to have a big sophomore season. RJ Nembhard is the only other player who saw significant game action last season. The addition of grad transfers Edric Dennis and Jaire Grayer will add some more experience to the roster. Dennis averaged 14.3 points with UT Arlington last year and Grayer tallied 12.3 points per game at George Mason two years ago before missing most of last season with an injury. With freshmen Francisco Farabello and P.J. Fuller joining the fray, TCU has plenty of talent on the perimeter. With some big guards, TCU may start four guards around Samuel. However, they still need some more options up front to at least provide some depth for Samuel.
Projected Postseason Tournament: NIT
By the Numbers:
Scoring Offense: 73.8 (131st in nation, 3rd in conference)
Scoring Defense: 69.6 (126, 7)
Field-Goal Percentage: 45.7 (93, 4)
Field-Goal Defense: 42.9 (124, 9)
Three-Point Field Goals Per Game: 7.6 (189, 5)
Three-Point Field-Goal Percentage: 34.6 (160, 6)
Free-Throw Percentage: 68.2 (266, 8)
Rebound Margin: 2.3 (102, 4)
Assists Per Game: 16.2 (20, 1)
Turnovers Per Game: 13.5 (236, 9)
Madness 2019 Men's Basketball Recruit Rankings:
#69 P.J. Fuller

#153 Diante Smith

#55 Francisco Farabello