Wofford Terriers
2019-2020 Overall Rank: #74
Conference Rank: #1 SoCon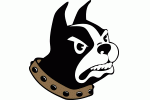 Wofford had a program building 2018-2019 campaign. The Terriers went 30-5 overall and a perfect 18-0 in Southern Conference play. They also won their first ever NCAA Tournament game, knocking off Seton Hall 84-68. Wofford gave Kentucky an interesting contest in the second round too with a 62-56 defeat. The program lost Coach Mike Young to Virginia Tech and promoted assistant Jay McAuley to the head position. That should provide a smooth transition, but Wofford is going to find it very difficult to replicate last year's success. However, they will still compete for a SoCon title.
2018-19 Record: 30-5, 18-0
2018-19 Postseason: NCAA
Coach: Jay McAuley
Coach Record: 0-0 at Wofford, 0-0 overall
Key Departed Players:
Fletcher Magee, Guard, 20.3 ppg
Cameron Jackson, Forward, 14.5 ppg
Keve Aluma, Forward, 6.9 ppg
Matt Pegram, Center, 4.8 ppg
Key Returning Players:
Nathan Hoover, Senior, Guard, 13.6 ppg
Storm Murphy, Junior, Guard, 8.0 ppg
Tray Hollowell, Junior, Guard, 4.9 ppg
Chevez Goodwin, Junior, Forward, 4.3 ppg
Ryan Larson, Sophomore, Guard, 3.0 ppg
Donovan Theme-Love, Senior, Guard, 1.8 ppg
Key New Players:
David Appelgren, Sophomore, Center, JC Transfer
Isaiah Bigelow, RS Freshman, Guard
Messiah Jones, Sophomore, Forward
Zion Richardson, Freshman, Guard
Morgan Safford, Freshman, Guard
Projection:
Nathan Hoover and Storm Murphy are the only two returning starters. Hoover ranked third on the team last season with 13.6 points per game and connected on an impressive 46.9 percent of his 196 attempts from beyond the arc. Murphy added 8.0 points and 3.3 assists. He is a very efficient shooter too. Those two will emerge as the leaders of the Terriers, but pieces will have to step up around them. Tray Hollowell and Ryan Larson are quality options on the perimeter. Hollowell is mostly a pure shooter, while Larson dished out 2.2 assists per game, playing limited minutes as a freshman. Chevez Goodwin will be asked to do much more in the frontcourt. He is a strong rebounder and the only player in the frontcourt with any playing experience at Wofford. The hope is junior college transfer David Appelgren and other newcomers like Isiah Bigelow and Messiah Jones can at least play some solid defense and hit the glass effectively. Wofford still has the shooters they need to be one of the best three-point shooting teams in the country, but replacing the production lost by Fletcher Magee, Cameron Jackson and Keve Aluma will not be a simple task. If Wofford can pull it off, they will make their sixth NCAA Tournament appearance in the last 11 years.
Projected Postseason Tournament:
NCAA
By the Numbers:
Scoring Offense: 82.3 (17th in nation, 2nd in conference)
Scoring Defense: 65.6 (39, 1)
Field-Goal Percentage: 49.0 (11, 1)
Field-Goal Defense: 42.5 (100, 3)
Three-Point Field Goals Per Game: 11.0 (6, 2)
Three-Point Field-Goal Percentage: 41.4 (2, 1)
Free-Throw Percentage: 70.4 (181, 5)
Rebound Margin: 5.8 (23, 2)
Assists Per Game: 15.1 (50, 4)
Turnovers Per Game: 10.9 (30, 1)