Wofford Terriers
Overall Rank: #7
#1 SoCon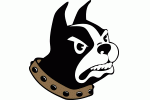 '
Wofford transitioned to the Coach Josh Conklin era without missing a beat. Coach Conklin was a former assistant with the Terriers, but replacing a coach like Mike Ayers, who has been the head coach at Wofford since 1988, was never going to be too simple. The team finished tied atop the SoCon standings and beat Elon in the first round of the playoffs before falling 13-10 to Kennesaw State in the second round. They will look to make a deeper playoff run in 2019.
2018 Record: 9-4, 6-2
2018 Postseason: FCS Playoffs
Coach: Josh Conklin (9-4 at Wofford, 9-4 overall)
Offensive Coordinator: Wade Lang
Defensive Coordinator: Sam Siefkes
Returning Leaders:
Rushing: Nathan Walker, FB, 547 yards
Passing: Joe Newman, QB, 1,070 yards
Receiving: T.J. Luther, WR, 323 yards
Tackles: Jireh Wilson, LB, 59
Sacks: T.J. Neal, LB, 4.0
Interceptions: Mason Alstatt, S, 3; George Gbesee, CB, 3
Other Key Returnees: WR Jason Hill, OL Justus Basinger, DL Thad Mangum, LB DT Wilson
Key Losses: RB Andre Stoddard, RB Lennox McAfee, DL Miles Brown, DB JoJo Tillery, Domo Lemon
Offense:
Nine starters are back on offense and that bodes well for Wofford's triple-option attack. All five offensive linemen are back, led by guard Justus Basinger. It is a very experienced and talented group paving the way for quarterback Joe Newman. Newman, now a senior, knows how to run this offense. Last season he rushed for 539 yards and five touchdowns and he has even developed into a pretty good passer, completing over 60 percent of his attempts for 1,070 yards and eight touchdowns. That is a lot of passing yards for Wofford and it will be very beneficial to be able to throw the ball when needed. Nathan Walker is back at fullback after tallying 547 yards on the ground, but the Terriers do need to find a couple new backs to replace Andre Stoddard and Lennox McAfee, who combined to rush for 1,798 yards and 19 touchdowns. Ryan Lovelace is ready to step up and there are plenty of other options to help out.
Defense:
The defense has been superb against the run in recent years. Last season the Terriers ranked ninth in the FCS in run defense and 12th in total defense. There are more holes to fill on this side of the ball with six starters gone, but there should be enough talent stepping into larger roles to keep this as one of the best defenses in the Southern Conference. Thad Mangum will lead the line after tallying 51 tackles and 3.0 sacks last season. Linebacker Jireh Wilson led the squad with 59 tackles and is back to lead a linebacker corps that also includes T.J. Neal, who totaled 4.0 sacks in 2018, and DT Wilson, who added 44 tackles. The secondary has a couple quality pieces to build around as well. Safety Mason Alstatt and cornerback George Gbesee each intercepted three passes last season.
The Bottom Line:
Wofford is going to come out of the gate swinging. The offense is so experienced that it will not take any time at all for the unit to be firing on all cylinders. However, the toughest games on the schedule come at the end of the season, starting on October 26th with a home date against Chattanooga. After that there are trips to Clemson and Mercer before the two games that could decide the Southern Conference champions. On November 16th, the Terriers host Furman and a week later they head to The Citadel. If Wofford can stay healthy and fill a couple holes on defense, they should be eyeing another conference title and a deeper playoff run in 2019.
2018 Team Stats:
Rushing Offense: 311.7 (5th in nation, 1st in conference)
Passing Offense: 115.5 (117, 8)
Total Offense: 427.2 (32, 3)
Scoring Offense: 29.6 (45, 5)
Rushing Defense: 104.0 (9, 1)
Pass Defense: 201.5 (41, 1)
Total Defense: 305.5 (12, 1)
Scoring Defense: 19.0 (8, 1)
Turnover Margin: -0.08 (64, 4)
Sacks Allowed: 0.69 (5, 1)
#114 Eric Mizell

#238 Calvin Jackson

#243 John Harrington