Butler Bulldogs
2019-2020 Overall Rank: #77
Conference Rank: #8 Big East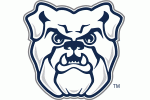 The 2018-19 campaign was the first season that Butler failed to eclipse 20 wins since 2013-14. It was also the first NCAA Tournament that the Bulldogs failed to participate in since 2014. The good news for Butler and head coach LaVall Jordan is that only three players are departed from last season. Leading scorer and All-Big East guard Kamar Baldwin is back for his senior season along with two other returning starters and breakout candidate Jordan Tucker. It has become a strange sight to not see Butler in the NCAA Tournament, and they have a solid chance to get back to that stage this season.
2018-19 Record: 16-17, 7-11
2018-19 Postseason: NIT
Coach: LaVall Jordan
Coach Record: 37-31 at Butler, 48-55 overall
Key Departed Players:
Paul Jorgensen, Guard, 11.7 ppg
Joey Brunk, Center, 7.6 ppg
Nate Fowler, Center, 5.5 ppg
Key Returning Players:
Kamar Baldwin, Senior, Guard, 17.0 ppg
Jordan Tucker, Junior, Forward, 9.7 ppg
Sean McDermott, Senior, Forward, 9.5 ppg
Aaron Thompson, Junior, Guard, 6.3 ppg
Henry Baddley, Senior, Guard, 4.4 ppg
Christian David, Junior, Forward, 1.8 ppg
Bryce Golden, Sophomore, Forward, 1.7 ppg
Key New Players:
Khalif Battle, Freshman, Guard
Markeese Hastings, RS Freshman, Forward
John-Michael Mulloy, Freshman, Center
Bryce Nze, Junior, Forward, Transfer from Milwaukee
Derrik Smits, Senior, Center, Transfer from Valparaiso
Projection:
The excitement around Butler basketball this season begins with their star senior guard Kamar Baldwin. Baldwin is already a top-20 scorer in school history and is coming off a Second Team All-Big East selection. Baldwin was seventh in the Big East in scoring as a junior with 17.0 points per game while also adding 4.9 rebounds, 3.1 assists and 1.5 steals. Baldwin will be one of the best guards in the Big East and potentially the entire NCAA. Jordan Tucker was a key player for the Bulldogs after becoming eligible in the spring semester. He started his career at Duke which gives an idea for his talent potential. After averaging 9.7 points and 4.1 rebounds in 24 games as a sophomore, Tucker is primed to breakout in his first full season with the Bulldogs. Sharpshooting senior Sean McDermott is back as well after averaging 9.5 points on 40.6% shooting from three-point range last year. Point guard Aaron Thompson returns after starting 65 games in his first two seasons at Butler. Thompson averaged 6.3 points, 1.2 steals and a team-high 4.3 assists per game. Experienced reserves Henry Baddley, Christian David and Bryce Golden also are back to add depth to the roster. Butler will have added experience in the form of two transfers as well. Derrik Smits is a grad transfer from Valparaiso who led his team in scoring (12.2 points) and rebounding (5.7) last season. Smits stands 7-foot-1 and will help replace the departures of Nate Fowler and Joey Brunk down low. Bryce Nze is a transfer from Milwaukee who will have two seasons of eligibility remaining. Nze averaged 10.3 points, 8.5 rebounds and 1.5 blocks as a sophomore and will give Butler another big-bodied presence in the frontcourt. The Bulldogs also add three freshmen to the roster highlighted by four-star guard Khalif Battle. Butler basketball took a step back last year and missed the NCAA Tournament for the first time in four seasons. This year the Bulldogs are primed to be competitive in the Big East again and should be back in contention for a spot in the Big Dance.
Projected Postseason Tournament: NIT
By the Numbers:
Scoring Offense: 71.9 (192nd in nation, 9th in conference)
Scoring Defense: 70.8 (161, 5)
Field-Goal Percentage: 44.5 (167, 6)
Field-Goal Defense: 45.7 (284, 9)
Three-Point Field Goals Per Game: 8.8 (63, 4)
Three-Point Field-Goal Percentage: 35.3 (128, 5)
Free-Throw Percentage: 73.8 (73, 2)
Rebound Margin: -2.3 (272, 9)
Assists Per Game: 13.2 (197, 10)
Turnovers Per Game: 10.9 (29, 2)
Madness 2019 Men's Basketball Recruit Rankings:
#89 Khalif Battle