Boise State Broncos
2019-2020 Overall Rank: #83
Conference Rank: #3 Mountain West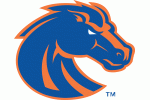 Boise State won just 13 games in 2018-19, their lowest win total in a season since 2011-12. The Broncos have not been to the NCAA Tournament since 2015 but had won 20-plus games in six consecutive seasons before last year. Leon Rice's team has a good chance to get back on track in 2019-20 with their top four scorers returning. Getting back to the NCAA Tournament is the ultimate goal, but at worst Boise State should find their way back to contending in the Mountain West.
2018-19 Record: 13-20, 7-11
2018-19 Postseason: None
Coach: Leon Rice
Coach Record: 178-116 at Boise State, 178-116 overall
Key Departed Players:
Zach Haney, Center, 8.7 ppg
Pat Dembley, Guard, 5.5 ppg
David Wacker, Center, 2.7 ppg
Malek Harwell, Guard, 2.2 ppg
Key Returning Players:
Justinian Jessup, Senior, Guard, 14.0 ppg
Derrick Alston, Junior, Forward, 13.4 ppg
Alex Hobbs, Senior, Guard, 12.1 ppg
RJ Williams, Senior, Forward, 9.3 ppg
Marcus Dickinson, Senior, Guard, 6.4 ppg
Robin Jorch, Senior, Center, 1.5 ppg (2017-18)
Key New Players:
Riley Abercrombie, Freshman, Forward
RayJ Dennis, Freshman, Guard
Mikey Frazier, Freshman, Forward
Abu Kigab, Junior, Forward, Transfer from Oregon
Projection:
Boise State returns five of their top six scorers from last season. Justinian Jessup earned Third-Team All-Mountain West honors after a fantastic junior campaign. Calling Jessup the most important player on the roster would be an understatement after he led the Broncos in scoring (14.0 points per game), rebounds (4.5 per game), assists (2.7 per game), steals and blocks last season. Jessup should be of the top players in the Mountain West as a senior. Derrick Alston had a breakout sophomore season and earned Honorable Mention All-Mountain West honors. Alston averaged 13.4 points, 3.9 rebounds and 1.1 assists, particularly impressive when considering he only played 26 total minutes as a freshman. Alex Hobbs was also an All-Mountain West Honorable Mention after his junior season. Hobbs averaged 12.1 points, 3.5 rebounds and 2.0 assists last year. Marcus Dickinson is the fourth and final returning starter for the Broncos. Dickinson is a steady hand at the point guard position, averaging 6.4 points, 2.6 rebounds, 1.9 assists, 1.1 steals and only 0.9 turnovers per game. RJ Williams was not a full-time starter, but he did start 18 games as a junior. Williams was fourth on the team in scoring with 9.3 points per game while adding 4.2 rebounds and 1.1 steals. Lastly, Robin Jorch will suit up for Boise State as a senior after sitting out all of 2018-19 with an injury. Jorch averaged just 1.5 points and 1.6 rebounds two years ago, but his experience and size will be important for the Broncos this year. Abu Kigab joins Boise State as a transfer from Oregon, though he will not be eligible to play until after the fall semester. Kigab played in 45 games over two seasons at Oregon and in his 10 sophomore appearances averaged 2.6 points, 2.7 rebounds and 1.8 assists. Boise State will also add three freshmen to the roster in RayJ Dennis, Riley Abercrombie and Mikey Frazier. Abercrombie and Frazier both redshirted last season. Boise State had a down year in 2018-19, but most of those players are back and looking to improve. The Broncos will be one of the more experienced teams in the Mountain West and should be much more competitive this season.
Projected Postseason Tournament: NIT
By the Numbers:
Scoring Offense: 71.6 (202nd in nation, 8th in conference)
Scoring Defense: 68.6 (91, 5)
Field-Goal Percentage: 46.9 (52, 3)
Field-Goal Defense: 45.0 (246, 7)
Three-Point Field Goals Per Game: 7.6 (185, 9)
Three-Point Field-Goal Percentage: 35.2 (130, 5)
Free-Throw Percentage: 72.3 (118, 3)
Rebound Margin: -0.2 (205, 8)
Assists Per Game: 12.1 (273, 10)
Turnovers Per Game: 11.5 (54, 2)