Montana State Bobcats
Overall Rank: #18
#5 Big Sky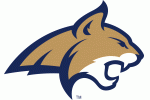 After two losing seasons, Coach Jeff Choate is getting Montana State back on track. Last year the Bobcats returned to the playoffs for the first time since Coach Choate took over the program prior to the 2016 campaign. Montana State was crushed by North Dakota State in the second round of the playoffs after beating Incarnate Word at home, but it was a good step in getting the program back to their former prominence.
2018 Record: 8-5, 5-3
2018 Postseason: FCS Playoffs
Coach: Jeff Choate (17-18 at Montana State, 17-18 overall)
Offensive Coordinator: Matt Miller
Defensive Coordinator: Kane Ioane
Returning Leaders:
Rushing: Troy Andersen, RB, 1,412 yards
Passing: Troy Andersen, RB, 1,195 yards
Receiving: Kevin Kassis, WR, 663 yards
Tackles: Brayden Konkel, S, 93
Sacks: Bryce Sterk, DE, 8.5
Interceptions: Jahque Alleyne, S, 5
Other Key Returnees: RB Isaiah Ifanse, QB Tucker Rovig, WR Travis Jonsen, OL Mitch Brott, LB Michael Jobman, CB Greg Filer, CB Tyrel Thomas
Key Losses: LB Grant Collins, DL Zach Wright, DT Tucker Yates, DL Tyron Fa'anono
Offense:
Troy Anderson returns after throwing for 1,195 yards and rushing for 1,412. In total he accounted for 24 touchdowns. However, Anderson will likely spend most of his time at running back and linebacker this season leaving Tucker Rovig and Casey Bauman under center. Those two are more traditional pocket passers and the direction the Bobcats would prefer to go. Rovig has some experience and started one game last season. The passing game has a lot of room to improve and it should get there with a pocket passer and Kevin Kassis and Travis Jonsen catching the ball. The ground game is solid behind an experienced and talented line and running back Isaiah Ifanse. He rushed for 1,025 yards and seven scores and should easily eclipse the 1,000 yard mark again in 2019.
Defense:
The return of Anderson to linebacker will help bolster a defense that ranked fourth in the Big Sky. Michael Jobman will team up with Anderson in the middle of the defense. Bryce Sterk will get to the quarterback on a regular basis. He tallied 8.5 sacks and 17.0 tackles-for-loss. The secondary has some great playmakers. Brayden Konkel tallied a team high 93 tackles and fellow safety Jahque Alleyne picked off five passes. This group is more experienced than they were a year ago and that should lead to an even better 2019 campaign.
The Bottom Line:
Montana State has all the pieces. If the quarterback situation can get sorted out quickly, the Bobcats could not only compete for a spot in the playoffs, but also a Big Sky title. The schedule is quite kind too. Montana State does not play Eastern Washington and Weber State and their contests against UC Davis and Montana are during the last two weeks of the regular season. That means the Bobcats should be able to stay in the conference title race until the very end and that they have plenty of time to work through any potential issues in the passing game.
2018 Team Stats:
Rushing Offense: 231.8 (17th in nation, 3rd in conference)
Passing Offense: 140.5 (114, 12)
Total Offense: 372.3 (69, 11)
Scoring Offense: 28.5 (52, 6)
Rushing Defense: 194.7 (81, 5)
Pass Defense: 213.5 (57, 4)
Total Defense: 408.2 (74, 4)
Scoring Defense: 28.5 (65, 4)
Turnover Margin: 0.77 (12, 1)
Sacks Allowed: 0.85 (12, 1)
#250 Jamahd Monroe