Colgate Raiders
Overall Rank: #27
#1 Patriot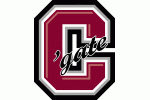 Colgate's two losses last season came against Army and North Dakota State in the playoffs. That included wins against New Hampshire, William & Mary and James Madison. Coach Dan Hunt has quite a few big names to replace, but the Raiders are still the clear favorite to win the Patriot League.
2018 Record: 10-2, 6-0
2018 Postseason: FCS Playoffs
Coach: Dan Hunt (36-23 at Colgate, 36-23 overall)
Offensive Coordinator: Josh Ison, Brad Dunlay
Defensive Coordinator: Paul Shaffner
Returning Leaders:
Rushing: Grant Breneman, QB, 307 yards
Passing: Grant Breneman, QB, 1,605 yards
Receiving: Nick Diaco, TE, 114 yards
Tackles: Nick Ioanilli, LB, 56
Sacks: Nick Wheeler, DT, 9.0
Interceptions: Abu Daramy-Swaray, DB, 3
Other Key Returnees: RB Malik Twyman, OL Jack Badovinac, OL Charlie Holsopple, K Chris Puzzi
Key Losses: RB James Holland, WR Owen Rockett, WR Owen Buscaglia, WR Thomas Ives, OL Scott Hirshman, OL Max Hartzman, LB T.J. Holl, DB Alec Wisniewski, LB Dillion Deluliis, DB Tyler Castillo, LB John Steffen, DL Chuck Moore
Offense:
Junior quarterback Grant Breneman is back after throwing for 1,605 yards and six touchdowns and rushing for 307 yards and seven more scores. Breneman will have to carry more of the burden this season with so many of the other skill players gone. Most notable is running back James Holland, who rushed for 1,219 yards and 12 touchdowns. Malik Twyman has the tough task of replacing Holland. The receiving corps has a lot of talent to replace too with the top three options gone. Breneman will make this offense work, especially with a very good offensive line in front of him, but it may take some time before the offense reaches its full potential.
Defense:
Colgate allowed a mere 9.3 points per game last season. After allowing 17 points to Holy Cross in the season opener, the Raiders gave up just six points total in their next six games. That is how much they dominated the Patriot League. The top three tacklers are gone, including conference Player of the Year T.J. Holl, but there is plenty of experience and talent back too. Nick Wheeler will garner plenty of All-American accolades after recording 9.0 sacks and 17.0 tackles-for-loss. Nick Ioanilli tallied 56 tackles and will be the new leader of the linebackers. In the secondary, Abu Daramy-Swaray recorded three interceptions and is emerging as a big play threat.
The Bottom Line:
Colgate will be tested in non-conference play. Their first four games are against Villanova, Air Force, William & Mary and Maine. The Raiders will not make it through that stretch without a loss or two, but it will set them up nicely for Patriot League play and another run at the playoffs.
2018 Team Stats:
Rushing Offense: 190.6 (38th in nation, 1st in conference)
Passing Offense: 153.8 (110, 7)
Total Offense: 344.3 (93, 1)
Scoring Offense: 27.0 (65, 1)
Rushing Defense: 100.8 (7, 1)
Pass Defense: 136.9 (2, 1)
Total Defense: 237.7 (1, 1)
Scoring Defense: 9.3 (1, 1)
Turnover Margin: 1.25 (5, 1)
Sacks Allowed: 2.50 (94, 4)
#99 Brendan Ekwughalu

#180 Zack Pelland

#285 Connor Meyer