Colgate Raiders
2019-2020 Overall Rank: #97
Conference Rank: #1 Patriot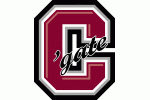 Colgate had not reached the NCAA Tournament since 1996 until last year's impressive run. The Raiders even gave second seeded Tennessee a nice test in the first round. Coach Matt Langel is turning the program into a consistent contender in the Patriot League. Consistency will be nice for the future, but for now Colgate should have higher hopes. With their top five scorers back, this is a group that can dominate the conference and pull off some upsets along the way.
2018-19 Record: 24-11, 13-5
2018-19 Postseason: NCAA
Coach: Matt Langel
Coach Record: 114-142 at Colgate, 114-142 overall
Key Departed Players:
Dana Batt, Center, 7.1 ppg
Malcolm Regisford, Forward, 6.5 ppg
Francisco Amiel, Guard, 3.1 ppg
Key Returning Players:
Jordan Burns, Junior, Guard, 16.3 ppg
Rapolas Ivanauskas, Senior, Forward, 15.9 ppg
Will Rayman, Senior, Forward, 13.1 ppg
Tucker Richardson, Sophomore, Guard, 8.1 ppg
Jack Ferguson, Junior, Guard, 7.2 ppg
Zach Light, Sophomore, Guard, 1.1 ppg
Key New Players:
Malcolm Bailey, Freshman, Forward
Nelly Cummings, Junior, Guard, Transfer from Bowling Green
Blake Henry, Junior, Forward, JC Transfer
Ryan Moffatt, Freshman, Guard
Pearson Parker, Freshman, Guard
Keegan Records, Freshman, Forward
Projection:
Jordan Burns and Rapolas Ivanauskas are a superb inside-outside combination. Burns, a 6-0 junior led the team with 16.3 points and 5.7 assists. He connected on 39.4 percent of his 198 three-point attempts and does a superb job running the offense. Ivanauskas, a 6-10 senior, is amazingly efficient shooting the long ball too. He connected on 43 three-pointers at a 43.4 percent clip. Of course with his size Ivanuskas is also a superb rebounder and tallied 7.8 rebounds per game on top of his 15.9 points. Will Rayman is another forward who can stretch the defense with his outside shooting. He hit 42.9 percent from beyond the arc and averaged 13.1 points and 6.5 rebounds. That is an impressive trio. Tucker Richardson and Jack Ferguson are talented shooters too and Colgate ranked ninth in the nation in three-point field-goal percentage. Some of those open looks though were due to Dana Batt in the paint. The 6-9 center was not a huge scoring threat, but he was the player who stayed in the paint. Colgate still has a lot of size and junior college transfer Blake Henry will add an interior presence, but they could become a bit too perimeter orientated on the offensive side of the floor. However, having five players who can knock down shots is not a bad thing, especially when it comes to pull off upsets in the NCAA Tournament.
Projected Postseason Tournament:
NCAA
By the Numbers:
Scoring Offense: 75.7 (94th in nation, 3rd in conference)
Scoring Defense: 70.2 (146, 3)
Field-Goal Percentage: 47.9 (25, 3)
Field-Goal Defense: 43.5 (160, 3)
Three-Point Field Goals Per Game: 9.1 (51, 4)
Three-Point Field-Goal Percentage: 39.3 (9, 2)
Free-Throw Percentage: 74.2 (56, 4)
Rebound Margin: 3.7 (61, 1)
Assists Per Game: 15.5 (38, 4)
Turnovers Per Game: 13.0 (184, 6)