St. Bonaventure Bonnies
2019-2020 Overall Rank: #101
Conference Rank: #5 Atlantic 10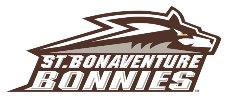 St. Bonaventure was a very good team in 2017-2018, when they beat UCLA in the First Four. Last year they took a step back, which was not a big surprise considering they lost some key pieces from that NCAA Tournament team. Many expected the Bonnies to fall far down the A-10 pecking order, but Coach Mark Schmidt's team played well and finished in fourth place in the conference. There will still be key players to replace, but St. Bonaventure should again finish towards the top of the standings.
2018-19 Record: 18-16, 12-6
2018-19 Postseason: None
Coach: Mark Schmidt
Coach Record: 210-168 at St. Bonaventure, 292-258 overall
Key Departed Players:
Courtney Stockard, 15.3 ppg
LaDarien Griffin, 10.7 ppg
Tshiefu Ngalakulondi, 3.6 ppg
Key Returning Players:
Kyle Lofton, Sophomore, Guard, 14.4 ppg
Osun Osunniyi, Sophomore, Forward/Center, 7.5 ppg
Dominick Welch, Sophomore, Guard, 7.5 ppg
Amadi Ikpeze, Senior, Center, 2.7 ppg
Alpha Okoli, Sophomore, Guard, 1.1 ppg
Key New Players:
Robert Carpenter, Freshman, Forward
Jaren English, Sophomore, Guard, JC Transfer
Matt Johnson, Junior, Guard, JC Transfer
Bobby Planutis, Sophomore, Forward, Transfer from Mount St. Mary's
Alejandro Vasquez, Freshman, Guard
Justin Winston, Freshman, Forward
Projection:
Three of the top four scorers are gone, including the team's leading scorer, Courtney Stockard, who averaged 15.1 points, 5.4 rebounds, 3.5 assists and 1.2 steals. Point guard Kyle Lofton is ready to emerge as the team's leader both on the floor and in the scoring department. The 6-3 Hillside, New Jersey product averaged 14.4 points, 3.7 assists and 1.4 steals as a freshman. Even as a freshman, Lofton committed just 1.7 turnovers per game and he is only going to get better in that regard. And, of course, he can score a lot too. The backcourt also returns fellow sophomore Dominick Welch. He led the team with 43 made three-pointers last season and is a pretty good rebounder for a guard too. The other returning starter is also a sophomore. Osun Osunniyi is a 6-10 big man who made a big impact on the defensive end of the court, leading the team with 7.6 rebounds and 2.7 blocks per game. He also did a bit more scoring than expected with his 7.5 points per game, but that number could improve significantly now that he has spent an offseason in the weight room. Amadi Ikpeze and Alpha Okoli are the only other returning players, but Coach Schmidt has brought in six newcomers who are ready to add some depth. The freshmen have some high expectations after so many freshmen played so well last season, but junior college transfer guards Jared English and Matt Johnson have more experience. Bobby Planutis sat out last season after transferring in from Mount St. Mary's and the big man 6-8 forward can shoot the basketball and add a bit more experience to the frontcourt.
Projected Postseason Tournament: CBI/CIT
By the Numbers:
Scoring Offense: 66.2 (313th in nation, 12th in conference)
Scoring Defense: 63.1 (18, 2)
Field-Goal Percentage: 42.9 (259, 7)
Field-Goal Defense: 40.2 (22, 2)
Three-Point Field Goals Per Game: 6.1 (314, 11)
Three-Point Field-Goal Percentage: 32.8 (260, 8)
Free-Throw Percentage: 74.2 (62, 4)
Rebound Margin: 0.8 (164, 8)
Assists Per Game: 12.3 (259, 9)
Turnovers Per Game: 12.4 (120, 6)