East Tennessee State Buccaneers
Overall Rank: #36
#5 SoCon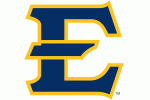 East Tennessee State reached the playoffs for the first time since their return to the college football world in 2015. The Buccaneers have been building quickly and Coach Randy Sanders moved them over the top and into the playoffs. Once there, ETSU lost in their opener to Jacksonville State, but for now getting to that point is a great stepping stone.
2018 Record: 8-4, 6-2
2018 Postseason: FCS Playoffs
Coach: Randy Sanders (8-4 at ETSU, 8-4 overall)
Offensive Coordinator: Mike Rader
Defensive Coordinator: Billy Taylor
Returning Leaders:
Rushing: Quay Holmes, RB, 928 yards
Receiving: Quay Holmes, RB, 279 yards
Tackles: Jared Folks, LB, 80
Sacks: Jason Maduafokwa, DL, 6.5
Interceptions: Tyree Robinson, DB, 6
Other Key Returnees: RB Jacob Saylors, WR Keith Coffee, WR Braxton Richburg, DB Jeremy Lewis, LB Blake Bockrath, DL Nasir Player, DB Karon Delince
Key Losses: QB Austin Herink, QB Logan Marchi, WR Kobe Kelly, TE Evan Wick, OL Matt Pyke, LB Dylan Weigel, DB Domenique Williams, DL Tremond Ferrell, K JJ Jerman
Offense:
The problem for ETSU is that Austin Herink has been the starting quarterback since they resurrected the program. Now they have to move on with a new leader under center. Cade Weldon and Chance Thrasher are transfers who have the most potential, but neither was around in the spring and getting the quarterback up to speed could be an issue for a while. Keith Coffee and Braxton Richburg are back to lead the wide receivers, but somebody will need to replace big play wideout Kobe Kelley. The running game has some options too in Quay Holmes and Jacob Saylors. Holmes rushed for 928 yards and 13 scores, while Saylors added 615 yards with four trips to the end zone. Those two are also very good pass catchers out of the backfield. Once, and if, the quarterback situation is worked out, the Buccaneers should have the potential to be one of the more effective offenses in the Southern Conference.
Defense:
While the offense retools, the defense will carry ETSU. The secondary is filled with experience and talent. Tyree Robinson picked off six passes last season and Jeremy Lewis and Karon Delince are also back to their starting spots. With more than enough depth, in part due to another solid recruiting class by Coach Sanders, it will not be easy to pass against ETSU. It will not be easy to run either. Linebacker Jared Folks returns after tallying 80 tackles and he will be asked to emerge as a leader to replace the departed Dylan Weigel. Once again this will be a group that will get a lot of pressure on the opposing quarterback. Nasir Player and Jason Maduafokwa combined for 12.5 sacks and 23.0 tackles-for-loss.
The Bottom Line:
East Tennessee State won a ton of close games last year. All but two of their wins in 2018 were by a field goal or less. That is quite amazing. It is impressive too that they were able to grind out those victories. But it goes to show that the Buccaneers were not that far off from a disappointing season. If the bounces do not go their way in 2019, East Tennessee State will fall back to the middle of the SoCon pack.
Projected Postseason: None
2018 Team Stats:
Rushing Offense: 151.3 (71st in nation, 5th in conference)
Passing Offense: 206.8 (67, 6)
Total Offense: 358.1 (78, 7)
Scoring Offense: 26.0 (75, 7)
Rushing Defense: 132.3 (27, 2)
Pass Defense: 218.8 (66, 4)
Total Defense: 351.2 (32, 2)
Scoring Defense: 26.4 (49, 4)
Turnover Margin: 0.08 (53, 3)
Sacks Allowed: 2.50 (94, 8)
#5 Deven Brantley

#111 Devontez Walker

#266 Tyler Riddell

#268 Blake Austin

#276 Treyvion Houston

#299 Diandre Davis