McNeese State Cowboys
Overall Rank: #37
#5 Southland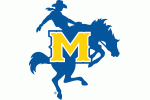 McNeese missed the playoffs in 2017 with a 9-2 record. Last year it looked like they would make up for it following a 5-1 start. But then they went to Incarnate Word and got crushed 45-17. They never really recovered from that and finished a very disappoint 6-5. That cost Lance Guidry the head coaching job and the Cowboys went out and picked up Sterlin Gilbert, former offensive coordinator at Texas and, more recently, South Florida.
2018 Record: 6-5, 5-4
2018 Postseason: None
Coach: Sterlin Gilbert (0-0 at McNeese State, 0-0 overall)
Offensive Coordinator: Matt Mattox
Defensive Coordinator: Jim Gush
Returning Leaders:
Rushing: Justin Pratt, RB, 320 yards
Passing: Cody Orgeron, QB, 406 yards
Receiving: Cyron Sutton, WR, 609 yards
Tackles: Cory McCoy, DB, 59
Sacks: Chris Livings, DE, 8.0
Interceptions: Darion Dunn, DB, 2; Jovon Burriss, DB, 2; Colby Burton, DB, 2
Other Key Returnees: WR Trevor Begue, OL Grant Burguillos, DL Cody Roscoe
Key Losses: RB David Hamm, WR Kylon Highshaw, LB BJ Blunt, LB Christian Jacobs, DB Trent Jackson, K Alex Kjellsten
Offense:
The Cowboys needed an offensive minded coach after tallying a mere 290.9 yards per game of total offense in 2018. Cody Orgeron, son of LSU head coach Ed Orgeron, will take over for the departed James Tabary under center. Orgeron threw for 406 yards and a couple scores as the backup last year, but it is his mobility that will add another dynamic to the offense. Cyron Sutton is a quality receiver and Trevor Begue has some experience, but McNeese will need to find some new, consistent weapons on offense. That is true at running back too where Justin Pratt is back after averaging a mere 3.4 yards per carry in 2018. The Cowboys have to find some more space to operate their run game or the offense will not see nearly enough improvement.
Defense:
The defense played well last year, ranking second in the Southland by allowing just 24.2 points per game. And there are more than enough pieces returning to keep it up. Chris Livings and Cody Roscoe will anchor the defensive line. Those two tallied 12.5 sacks last season and should provide a solid foundation up front. Losing linebackers BJ Blunt and Christian Jacobs leaves some questions in the middle of the defense, but the secondary should be better with Cory McCoy leading the way. He tallied 59 tackles last year and Jovon Burriss, Colby Burton and Darion Dunn all picked off two passes each. McNeese will need more big plays like those in order to set up the offense with decent field position.
The Bottom Line:
This will be a very interesting season for McNeese and the Southland as a whole. The conference saw Incarnate Word and Lamar make their playoff debuts last year and now it feels like the entire conference is up for grabs. No longer are Sam Houston State and Central Arkansas the only two games circled on the schedule and every conference game will be hard fought. McNeese may not have enough to reach the playoffs, but they do have the talent to boost their Southland win total up to six or seven.
Projected Postseason: None
2018 Team Stats:
Rushing Offense: 109.7 (99th in nation, 9th in conference)
Passing Offense: 181.2 (90, 11)
Total Offense: 290.9 (111, 11)
Scoring Offense: 20.8 (101, 10)
Rushing Defense: 119.5 (17, 4)
Pass Defense: 236.5 (91, 4)
Total Defense: 356.0 (36, 2)
Scoring Defense: 24.2 (34, 2)
Turnover Margin: 0.00 (56, 6)
Sacks Allowed: 3.18 (107, 8)