North Carolina A&T Aggies
Overall Rank: #41
#1 MEAC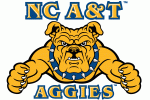 North Carolina A&T has absolutely dominated the MEAC in recent years. They have won the Celebrations three years out of four and went to the FCS Playoffs the other season. There are some huge holes to fill though and maintaining that success will not come easy.
2018 Record: 10-2, 6-1
2018 Postseason: Celebration Bowl vs Alcorn State (W 24-22)
Coach: Sam Washington (163-66 at Harvard, 195-111-1 overall)
Offensive Coordinator: Chris Barnette
Defensive Coordinator: Courtney Coard
Returning Leaders:
Rushing: Jah-Maine Martin, RB, 656 yards
Passing: Kyilil Carter, QB, 374 yards
Receiving: Zachary Leslie, WR, 676 yards
Tackles: Antoine Wilder, LB, 67
Sacks: Justin Cates, DL, 3.5
Interceptions: Antoine Wilder, LB, 2
Other Key Returnees: WR Elijah Bell, WR Ron Hunt, OL Marcus Pettiford, DB Jalon Bethea, DB Richie Kittles, DB Franklin McCain
Key Losses: RB Marquell Cartwright, QB Lamar Raynard, WR Malik Wilson, TE Leroy Hill, OL Micah Shaw, DB Timadre Abram, DL Darryl Johnson, LB Jamaal Darden, LB Deion Jones, DL Julian McKnight
Offense:
The biggest question is at quarterback where Lamar Raynard needs to be replaced. He capped off his brilliant career by throwing for 1,922 yards and 20 touchdowns as a senior. Kylil Carter has been Raynard's backup for years and is next in line. However, a spring injury has given Ifedi Kingsley an opportunity to take the starting job. Whoever is under center will have some talent around him. Jah-Maine Martin was the #2 running back last year and should be ready to carry more of the load, especially with a very talented offensive line, led by All-Everything Marcus Pettiford, paving the way. Zachary Leslie, Elijah Bell and Ron Hunt are experienced wide receivers who will also help break in the new quarterback.
Defense:
The defense has more questions, but this was a unit that ranked fourth in the FCS in rush defense and third in total defense. Justin Cates will need to emerge as the new pass rushing threat with the early departure of Darryl Johnson to the NFL. Antoine Wilder will look to lead the team in tackles again from his linebacker position. And the secondary has plenty of experience with Jalon Bethea, Richie Kittles and Franklin McCain.
The Bottom Line:
North Carolina A&T is still the team to beat in the MEAC until proven otherwise. However, this might be the opportunity for the rest of the conference to catch up. The offense could struggle to replace Raynard and the defense almost has to take at least a small step back. The best conference games will likely come at the end of the season when the Aggies host Bethune-Cookman and North Carolina Central. Those two games could decide if North Carolina A&T will yet again go to the Celebration Bowl.
Projected Postseason: Celebration Bowl
2018 Team Stats:
Rushing Offense: 174.8 (52nd in nation, 4th in conference)
Passing Offense: 190.8 (82, 5)
Total Offense: 365.7 (76, 3)
Scoring Offense: 30.1 (40, 2)
Rushing Defense: 93.9 (4, 1)
Pass Defense: 176.8 (12, 3)
Total Defense: 270.7 (3, 1)
Scoring Defense: 14.2 (5, 1)
Turnover Margin: 0.50 (25, 3)
Sacks Allowed: 1.17 (21, 1)
#87 Tyquan Johnson

#131 Jason Ivey

#202 Cameron Hutchinson

#283 Shemar Thompson