North Carolina Central Eagles
Overall Rank: #44
#2 MEAC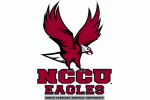 North Carolina Central had a disappointing 2018 campaign, finishing 3-4 in MEAC play and 5-6 overall. The defense was a big part of the problem, but now the Eagles have Trei Oliver leading the program. He spent the last three seasons as Southern's defensive coordinator and, if he can put his mark on that side of the ball, NCCU will quickly move up the conference pecking order.
2018 Record: 5-6, 3-4
2018 Postseason: None
Coach: Trei Oliver (0-0 at NCCU, 0-0 overall)
Offensive Coordinator: Moses Ware
Defensive Coordinator: Freddie Aughtry-Lindsay
Returning Leaders:
Rushing: Isaiah Totten, RB, 768 yards
Passing: Chauncey Caldwell, QB, 916 yards
Receiving: Nique Martin, WR, 365 yards
Tackles: Darius Royster, DL, 58
Sacks: Darius Royster, DL, 5.0
Interceptions: Marcus Martin, DB, 1; Patrick Conner, LB, 1
Other Key Returnees: WR E.J. Hicks, WR Xavier McKoy, WR Tyler Barnes, TE Sherman McLeod, LB Branden Bailey, DL Kawuan Cox
Key Losses: RB Tyquan Watson, QB Naiil Ramadan, OL Nick Leverett, DB Davanta Reynolds, LB King Kiaku, DL Randy Anyanwu, DB De'Mario Evans
Offense:
North Carolina Central was solid running the ball last season and Isaiah Totten is back to do it again after tallying 768 yards in 2018. Behind a relatively strong and experienced offensive line, the Eagles will be able to establish their ground game against most opponents. The Eagles had three quarterbacks who were forced into action last season. Chauncey Caldwell is the only one returning, but he was the starter last year until an injury sidelined him in late October. On the year the 6-2 junior threw for 916 yards and eight touchdowns in seven appearances and four starts. Caldwell is a dual-threat signal caller who also rushed for 324 yards and three scores. If Caldwell can stay healthy, this will be a much more dynamic offense, especially with nearly all of the pass catchers returning.
Defense:
The excitement surround the hiring of Coach Oliver has already paid dividends on the recruiting trail and that should help out the defense right away. Five starters are back and a handful of key contributors, so there is some talent to work with, but some of the new faces will need to make an impact as well. Lineman Darius Royster is an all-conference talent and Kawuan Cox can get into the backfield too. Those two combined for 9.5 sacks last season and that pressure was why NCCU did so well creating turnovers.
The Bottom Line:
It may take a little more time before North Carolina Central is the dominant force in the MEAC again, but there are good reasons to be excited. If the new defensive scheme pays off right away, the Eagles will be a tough team to beat in the MEAC. And a trip to the Celebrations Bowl could come down to the season finale at North Carolina A&T.
Projected Postseason: None
2018 Team Stats:
Rushing Offense: 168.7 (53rd in nation, 5th in conference)
Passing Offense: 179.1 (92, 6)
Total Offense: 347.8 (86, 5)
Scoring Offense: 26.3 (73, 5)
Rushing Defense: 199.6 (88, 8)
Pass Defense: 216.6 (59, 9)
Total Defense: 416.3 (79, 9)
Scoring Defense: 30.5 (78, 8)
Turnover Margin: 0.55 (21, 1)
Sacks Allowed: 1.82 (48, 6)
#15 OL Michael Cartwright