Bradley Braves
2019-2020 Overall Rank: #114
Conference Rank: #3 Missouri Valley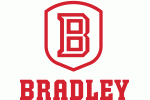 Once again Bradley finished Missouri Valley Conference play at 9-9, but this time the Braves got hot at the right time and made an impressive run through the MVC tournament to earn an automatic berth in the NCAA Tournament, where they fell to Michigan State in the first round. With the top three scorers returning, this is a Bradley team that can make a strong push up the conference standings.
2018-19 Record: 20-15, 9-9
2018-19 Postseason: NCAA
Coach: Brian Wardle
Coach Record: 58-75 at Bradley, 153-140 overall
Key Departed Players:
Dwayne Lautier-Ogunieye, Guard, 8.7 ppg
Lugman Lundy, Guard, 4.0 ppg
Luuk van Bree, Forward, 5.6 ppg
Jayden Hodgson, Guard, 1.6 ppg
Key Returning Players:
Darrell Brown, Senior, Guard, 14.8 ppg
Elijah Childs, Junior, Forward, 12.4 ppg
Koch Bar, Senior, Center, 5.7 ppg
Nate Kennell, Senior, Guard, 9.3 ppg
Ja'Shon Henry, Sophomore, Guard/Forward, 4.2 ppg
Ari Boya, Sophomore, Center, 1.6 ppg
Key New Players:
Danya Kingsby, Junior, Guard, Transfer from LSU
Rienk Mast, Freshman, Forward
Stephan Gabriel, Freshman, Guard/Forward
JaMir Price, Freshman, Guard
Ville Tahvanainen, Freshman, Guard
Antonio Thomas, Freshman, Guard
Kevin McAdoo, Junior, Guard, Transfer from Eastern Michigan, not eligible
Terry Nolan, Junior, Guard, Transfer from George Washington, not eligible
Projection:
Darrell Brown and Elijah Childs will again form the core of this team. Childs, a 6-7 junior, averaged 12.4 points and a team high 7.8 rebounds and 1.4 blocks last season and he just keeps getting better. Brown is the main perimeter scoring threat, leading the team with 14.8 points and 3.2 assists. Brown is also an extremely dangerous shooter and connected on 44.4 percent of his 178 three-point attempts. Speaking of talented shooters, Nate Kennell provided a massive offensive spark off the bench last year, averaging 9.3 points and hitting 40.1 percent of his three-pointers. He may step into a starting role for his senior campaign. Bradley should get even better in the outside shooting department with the addition of Danya Kingsby. He spent a couple years dominating the junior college ranks before heading to LSU, where he sat out last season for medical reasons. With Koch Bar and Ari Boya providing options in the paint and Ja'Shon Henry adding depth on the wing, this is a Bradley squad that has all the tools they need to make it back to the NCAA Tournament.
Projected Postseason Tournament: CBI/CIT
By the Numbers:
Scoring Offense: 66.5 (310th in nation, 8th in conference)
Scoring Defense: 65.3 (35, 2)
Field-Goal Percentage: 43.3 (231, 7)
Field-Goal Defense: 41.2 (46, 1)
Three-Point Field Goals Per Game: 6.9 (262, 6)
Three-Point Field-Goal Percentage: 36.8 (62, 2)
Free-Throw Percentage: 69.2 (227, 8)
Rebound Margin: 0.9 (153, 3)
Assists Per Game: 12.1 (272, 7)
Turnovers Per Game: 12.6 (144, 4)