East Tennessee State Buccaneers
2019-2020 Overall Rank: #127
Conference Rank: #4 Southern Conference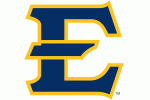 Steve Forbes has won at least 24 games in each of his four seasons at East Tennessee State. The Buccaneers finished fourth in a strong Southern Conference last season. They failed to win the conference tournament, leaving them to play in the CIT. ETSU has only been to one NCAA Tournament under Forbes despite the amount of games he has won. The Buccaneers have an experienced team with a lot of last year's production returning, so another NCAA Tournament appearance is a realistic goal for 2019-20.
2018-19 Record: 24-10, 13-5
2018-19 Postseason: CIT
Coach: Steve Forbes
Coach Record: 100-39 at East Tennessee State, 100-39 overall
Key Departed Players:

Mladen Armus, Center, 8.0 ppg
James Harrison, Forward, 3.8 ppg
Kevon Tucker, Guard, 3.6 ppg
Carlos Curtis, Guard, 2.3 ppg
D'Andre Bernard, Forward, 1.8 ppg
Key Returning Players:
Jeromy Rodriguez, Forward, 11.2 ppg
Tray Boyd III, Senior, Guard, 12.2 ppg
Patrick Good, Junior, Guard, 10.4 ppg
Bo Hodges, Junior, Guard, 10.3 ppg
Daivien Williamson, Sophomore, Guard, 9.5 ppg
Isaiah Tisdale, Senior, Guard, 8.8 ppg
Lucas N'Guessan, Senior, Center, 6.2 ppg
Octavion Corley, Junior, Center, 4.5 ppg
Key New Players:
Joe Hugley, Senior, Forward, Transfer from Central Connecticut
Damari Monsanto, Freshman, Guard
Clivonte Patterson, Junior, Forward, Transfer from Junior College
Charlie Weber, Freshman, Forward
Projection:
All of ETSU's top six scorers from last season are back for 2019-20. Tray Boyd III is a pure scorer who mostly came off the bench for the Buccaneers last season, but he still led the team in scoring with 12.2 points per outing. Jeromy Rodriguez earned All-Southern Conference Second Team honors behind 11.2 points and 10.9 rebounds per game. Rodriguez considered playing professionally overseas but is back to contend for Player of the Year in the SoCon. Patrick Good is a sharpshooter who started 31 games as a sophomore and averaged 10.4 points while shooting 39% from three on 7.0 attempts per game. Bo Hodges is a solid all-around guard who started 27 games and averaged 10.3 points, 4.4 rebounds, 2.6 assists and 1.1 steals. Good and Hodges both made the All-Southern Conference Third Team. Daivien Williamson started 16 games as a freshman and averaged 9.5 points, 2.5 assists and 2.0 rebounds. Williamson made the conference all-freshman team. Isaiah Tisdale started 20 games and led the team in assists with 3.0 per game while also scoring 8.8 points per outing. Lucas N'Guessan and Octavion Corley round out the returning players. Corley saw action in two games last season but was granted a redshirt for the year. N'Guessan is an Oklahoma State transfer who was highly efficient in limited minutes, shooting 73% from the field. Joe Hugley, a 6-7 forward, is a grad transfer from Central Connecticut State who averaged 12.3 points and 5.2 rebounds per game last season. Clivonte Patterson is a junior college transfer joining the roster along with freshmen Damari Monsanto and Charlie Weber. ETSU has had nothing but success under Steve Forbes, and an experienced roster like this gives the Buccaneers a chance at earning an auto-bid to the NCAA Tournament in 2020.
Projected Postseason Tournament: CBI/CIT
By the Numbers:
Scoring Offense: 79.6 (35th in nation, 3rd in conference)
Scoring Defense: 69.7 (132, 4)
Field-Goal Percentage: 48.6 (14, 2)
Field-Goal Defense: 43.5 (163, 4)
Three-Point Field Goals Per Game: 8.1 (138, 7)
Three-Point Field-Goal Percentage: 36.1 (94, 6)
Free-Throw Percentage: 67.0 (302, 10)
Rebound Margin: 10.1 (2, 1)
Assists Per Game: 15.7 (30, 2)
Turnovers Per Game: 14.2 (288, 9)