Loyola Chicago Ramblers
2019-2020 Overall Rank: #130
Conference Rank: #4 Missouri Valley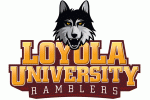 Loyola followed up their amazing Final Four run of 2018 with another very good season. The Ramblers won a share of the Missouri Valley title, but had to settle for a trip to the NIT where they lost at Creighton in the first round. Of course the expectations were higher than that after a trip to the Final Four, but the program did a good job of keeping Coach Porter Moser this offseason and he did a good job of filling the holes left behind by the departures of starters Marques Townes and Clayton Custer.
2018-19 Record: 20-14, 12-6
2018-19 Postseason: NIT
Coach: Porter Moser
Coach Record: 141-125 at Loyola (IL), 246-226 overall
Key Departed Players:
Marques Townes, Guard, 15.3 ppg
Clayton Custer, Guard, 11.1 ppg
Isaiah Bujdoso, Guard, 2.1 ppg
Key Returning Players:
Cameron Krutwig, Junior, Center, 14.8 ppg
Lucas Williamson, Junior, Guard, 8.8 ppg
Aher Uguak, Junior, Forward, 5.8 ppg
Cooper Kaifes, Sophomore, Guard, 5.7 ppg
Bruno Skokna, Senior, Guard, 3.5 ppg
Key New Players:
Keith Clemons, Junior, Guard, JC Transfer
Tate Hall, Junior, Forward, Transfer, Indianapolis
Marquise Kennedy, Freshman, Forward
Jalon Pipkins, Junior, Guard
Tom Welch, Freshman, Forward
Paxson Wojcik, Freshman, Guard
Projection:
The focus will slightly shift to the frontcourt where Cameron Krutwig and Asher Uguak will return to their starting spots. Krutwig, a 6-9 center, averaged 14.8 points and led the team with 7.2 rebounds and 1.0 blocks per game. Uguak is not much of a scorer, but he does a lot of the dirty work in the paint. The Ramblers will need Lucas Williamson to stay healthy if they want to compete for a conference title. The 6-4 junior missed over half of last season, but still managed to average 8.8 points, 5.9 rebounds and 1.7 assists. Sophomore Cooper Kaifes is one of the best shooters in the country. He will rarely step inside the arc, but last season he connected on 46.5 percent of his 114 three-point attempts. This is a Ramblers team that will slow the game down significantly and they have had experienced guards in the past who can work the ball around and find an open shot. Now it will be up to junior college transfer Keith Clemons to run the offense. He has proven to be a solid playmaker during his two seasons at Vincennes, but this will be an entirely new challenge.
Projected Postseason Tournament: CBI/CIT
By the Numbers:
Scoring Offense: 65.6 (325th in nation, 9th in conference)
Scoring Defense: 60.8 (5, 1)
Field-Goal Percentage: 49.3 (8, 1)
Field-Goal Defense: 43.7 (173, 5)
Three-Point Field Goals Per Game: 6.1 (317, 8)
Three-Point Field-Goal Percentage: 36.6 (68, 3)
Free-Throw Percentage: 66.6 (313, 10)
Rebound Margin: 0.6 (171, 5)
Assists Per Game: 13.8 (145, 2)
Turnovers Per Game: 12.0 (87, 2)