Saint Louis Billikens
2019-2020 Overall Rank: #143
Conference Rank: #6 Atlantic 10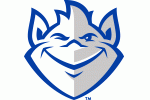 Saint Louis had a disappointing 2018-19 regular season, failing to win 20 games and going 10-8 in a down year for the Atlantic 10. However, the Billikens woke up in the postseason, winning four games in four days to win the Atlantic 10 tournament and clinch a spot in the NCAA Tournament. Saint Louis loses three starters this season though, including their two top scorers Javon Bess (15.3 ppg) and Tramaine Isabell (13.7 ppg). Bess also won Atlantic 10 Defensive Player of the Year. Only two players that averaged north of five points per contest return for Travis Ford's team in 2019-20. Getting back to the postseason could be an uphill climb for the Billikens.
2018-19 Record: 23-13, 10-8
2018-19 Postseason: NCAA Tournament
Coach: Travis Ford
Coach Record: 52-50 at Saint Louis, 397-307 overall
Key Departed Players:
Javon Bess, Forward, 15.3 ppg
Tramaine Isabell, Guard, 13.7 ppg
D.J. Foreman, Forward, 6.1 ppg
Dion Wiley, Guard, 4.5 ppg
Key Returning Players:
Jordan Goodwin, Junior, Guard, 10.5 ppg
Hasahn French, Junior, Forward, 9.3 ppg
Fred Thatch, Sophomore, Guard, 4.3 ppg
KC Hankton, Sophomore, Forward, 1.7 ppg
Demarius Jacobs, Sophomore, Guard, 0.4 ppg
Key New Players:
Javonte Perkins, Junior, Forward, Junior College transfer
Jimmy Bell, Freshman, Center
Yuri Collins, Freshman, Guard
Madani Diarra, Freshman, Center
Terrence Hargrove, Freshman, Forward
Gibson Jimerson, Freshman, Guard
Projection:
Juniors Jordan Goodwin and Hasahn French will be the foundation for the Billikens this season. Goodwin and French had strong sophomore seasons, with each starting 35 games and playing more than 30 minutes per outing. Goodwin scored 10.5 points per game and added 7.5 rebounds, 3.4 assists and 1.8 steals. As he becomes an upperclassman, Goodwin could turn into one of the best all-around players in the Atlantic 10. French was a force on both sides of the ball as a sophomore. French is undersized for a big man, but he averaged 9.3 points, 8.4 rebounds, 1.8 blocks and 1.0 steals per game and earned a spot on the Atlantic 10 All-Defensive Team. Sophomore Fred Thatch will need to take a step forward as a sophomore after playing all 36 games as a freshman and averaging 4.3 points per game. KC Hankton and Demarius Jacobs also return after playing limited minutes as freshmen. Javonte Perkins could be the most important addition for Saint Louis as an experienced forward from junior college. Perkins has good size at 6-7 and was a high-level shooter in junior college. Five freshmen also join the Billikens this season, none of which are ranked higher than 3-star prospects. Point guard Yuri Collins is the highest ranked of the group as a top-250 recruit. There isn't a lot of returning production for Saint Louis, but the potential is there for the Billikens to be in the top half of the Atlantic 10 standings this season.
Projected Postseason Tournament: None
By the Numbers:
Scoring Offense: 66.6 (308th in nation, 11th in conference)
Scoring Defense: 63.8 (22, 3)
Field-Goal Percentage: 41.7 (306, 10)
Field-Goal Defense: 41.0 (39, 4)
Three-Point Field Goals Per Game: 5.7 (329, 13)
Three-Point Field-Goal Percentage: 30.4 (336, 13)
Free-Throw Percentage: 59.8 (350, 14)
Rebound Margin: 6.5 (17, 1)
Assists Per Game: 12.8 (225, 7)
Turnovers Per Game: 12.9 (167, 9)