Stetson Hatters
Overall Rank: #36
Conference Rank: #1 ASUN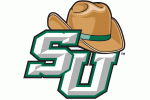 Stetson is coming off an epic 2018 campaign. The Hatters went 15-3 in ASUN play and hosted a regional. In the regional, Stetson crushed Hartford and Oklahoma State twice to easily reach their first ever Super Regional. In Chapel Hill though the Hatters fell in two hard-fought games, 7-4 and 7-5, to North Carolina. This time around Coach Steve Trimper hopes to replicate that success and having Mitchell Senger back will certainly help. The junior went 9-2 with a 2.51 ERA in 15 appearances, including 13 starts. Senger will again be one of the best pitchers in the nation, but there is not much experience behind him. Players like Vlad Nunez, Austin Wood, Chris Gonzalez and some of the newcomers will have to provide consistency on the mound or the Hatters will take a larger step backwards this year than many expect.
2018: 48-13, 15-3
2018 Postseason: NCAA
Coach: Steve Trimper
Key Departed Players:
Mike Spooner, OF, .307 BA, 4 HR, 34 RBI
Brooks Wilson, P/UTL, .299 BA, 3 HR, 36 RBI, 2.08 ERA, 6-0 W/L, 56.1 IP, 69 SO, 20 SV
Logan Gilbert, P, 2.72 ERA, 11-2 W/L, 112.1 IP, 163 SO
Jack Perkins, P, 2.80 ERA, 11-3 W/L, 106.0 IP, 108 SO
Key Returning Players:
Jacob Koos, OF, .291 BA, 3 HR, 34 RBI, 23 SB
Jonathan Meola, IF, .266 BA, 27 RBI
Andrew MacNeil, OF, .263 BA, 4 HR, 26 RBI
Mitchell Senger, P, 2.51 ERA, 9-2 W/L, 93.1 IP, 114 SO
Projection:
Stetson led the nation in ERA, hits allowed per nine innings and shutouts. That will not likely be the case again in 2019 so the seven returning field starters will be asked to do a little bit more this time around. The offense was not bad at all last year, ranking second in the conference in runs, but it was the dominating pitching staff that garnered all the headlines. Jacob Koos is the best all-around hitter on the team. Last year he batted .291 with three homeruns, 34 RBIs and 23 stolen bases. Andrew MacNeil, Eric Foggo and Jorge Arenas bring some occasional power to the plate as well. If the lineup can generate a few more clutch runs when needed, it will give the pitching staff a little time to find their new arms to fill in around Senger. If that happens, Stetson will not only win another ASUN title, but make another impressive NCAA Tournament run.