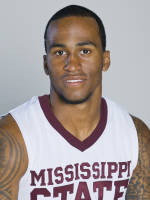 Dee Bost, Senior, Point Guard, Mississippi State
Overview:
Dee Bost flirted with the 2011 NBA Draft. In fact, that flirting got a little out of hand as Bost failed to withdraw properly prior to the early entry deadline. He was also academically ineligible for the fall semester. Prior to those little missteps, the 6-2 point guard was a staple in the Mississippi State starting lineup.
As a freshman, Bost was mostly asked to find his teammates and run the offense, which he did very well, but he also averaged 10.9 points per game. On a team that had a ton of fine scorers, that was an impressive feat. As a sophomore Bost began taking on more of a leadership role. His assist total boosted up to 5.2 per contest and he also averaged 13.0 points. In the 17 games he played in during the 2010-2011 campaign, Bost averaged 15.3 points and 6.2 assists. And that was against tough SEC opponents. Bost never had the opportunity to enhance his numbers against easy non-conference opponents.
Final Projection:
Bost can make things happen. He has a great first step and has the athleticism to finish around the basket. However, he can be a little too flashy for his own good at times and that has led to some relatively high turnover numbers. His outside shooting is decent enough to keep the opposition honest, but his shot has never really improved during his time at Mississippi State. During his junior season he shot 6.6 three-pointers per game. He only connected on 33.6 percent of those attempts. That is not a horrible number for a point guard, but he has developed the habit of hoisting up a bad shot when he is much better off attacking the basket.
See all NBA Draft Profiles and Rankings